7 MORE Native American Basketball Players to watch this 2014-2015 College Basketball Season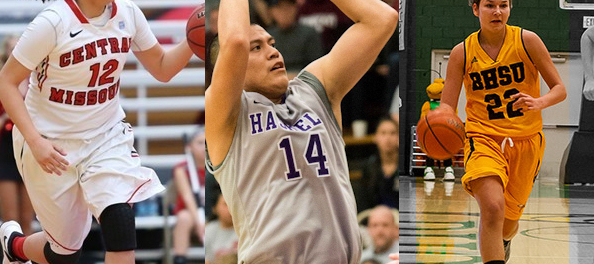 By Brent Cahwee, NDNSPORTS.COM
A few weeks ago we wrote an article titled "10 Native American Basketball Players to watch this 2014-2015 College Basketball season", which turned out to be very popular amongst our  readers and it was an article that we received a lot of feedback on from as well. The list was by no means a ranking of any sorts but we wanted to let you the reader know that there are some talented Native American college players playing on the national stage and in your own backyards. With the amount of feedback we received from other Native American players who are doing good for their teams, we felt that we should add 7 MORE players to that list on the opening day for college basketball programs all across the country.
Again, this is not a ranking but players we hope you pay attention to just as much as we do and maybe even catch a game or two:
11.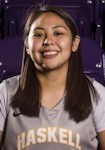 Jenine Coriz (Cochiti Pueblo) – is a 5-3 shooting guard for Haskell Indian Nations University, Jenine begins her  senior season as the floor general for the Lady Indians who have one of their best squads in recent years. Last season, Coriz averaged 14 points per game, 4 assists and an amazing 3.5 steals per game. Jenine finished the season as the number two ranked player in the nation in NAIA Division II for steals per game and total steals (112) over the season. She was named to the 2013-2014 Midlands Collegiate Athletic Conference (MCAC) first team all-conference and she was also named the MCAC Defensive Player of the Year. Jenine plays along side Haskell standout and "Top 1o" story mention player Keli Webster and between the two of them Haskell, and a host of up and coming players,could earn a possible bid to the NAIA National Tournament.  Jenine and the Lady Indians are off to the best start in school history (4-0) since Haskell joined the NAIA so far this season.
12.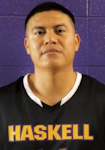 Stand Lovato (Santa Domingo Pueblo/Euchee tribe) – Sticking with the Haskell Indian Nations University players, Stand Lavato is a 6-1 senior shooting guard who returns at the leading scorer for the Indians men's squad. Last season, Lovato averaged 14 points per game for the Indians and is primarily the Indians 3-point specialist. He finished 22nd in the nation for NAIA Divsion II in 3-point percentage. Stand also had three games last season where he scored 30 or more points and 20 overall games of reaching the double-digit scoring plateau. He was named to the MCAC Honorable Mention squad and he was the only Haskell player named an MCAC Player of the Week last season. Already off to a another hot hand start this season, Stand is averaging 18.5 points per game and scored his first 35 point game of the season recently. Currently, Stand ranks numbe three in the NAIA Division II for 3-point fields goals made per game.
13.

Shanae Gilham (Blackfeet Nation) – is a 5-10 guard for the University of Montana Grizzlies, faced with some injuries to the start of her career look for Shanae to get some quality minutes this season for the Griz as she makes her comeback. As a freshman, she played in 26 of 32 games  and averaged 4.7 points per game despite playing just 12.5 minutes per game. Suffered a season-ending knee injury in 56-43 victory over Northern Colorado in Big Sky tournament championship game. Shane was the he Big Sky's top 3-point shooter overall (.439) and in league games (.444). She also led Montana in field goal percentage (.443)and  66 of  her 97 shot attempts for the season were from 3-point range. In the few exhibition games for the Griz, Shanae came off the bench and nearly scored double digit for the Griz.
14.

Eric Green (Hualapai Tribe) – is a 6-4 forward for the College of Holy Cross, Eric returns for his junior season as a starting forward where last season he played in all 34 games, starting 27 times, where he averaged 7.9 points, 4.0 rebounds, 2.1 assists and 1.7 steals per game. Eric Led the team in steals 18 times, in assists 13 times, in blocks six times, in scoring twice and in rebounding twice and he scored in double-figures 12 times on the season, while posting one double-double.  He also  ranked fifth in the Patriot League in steals and 12th in offensive rebounds last season and finished the season 81st in the nation in steals. In the opening exhibition game this season, he added 8 points for Holy Cross in 22 minutes of play.
15.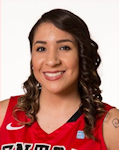 Justina Prairie Chief (Cheyenne & Arapaho Tribes) – is a senior guard for the University of Central Missouri, last season Justina saw action in 31 games in her first season as a Jennie (She transferred from Cochise JC)  and averaged 3.0 points and 3.5 rebounds, while hitting 32.7% of her shots. This season the Justina will carry a larger role with the Jennies offense this season. The El Rino, Oklahoma native pulled down 110 rebounds last season, first among reserves and tallied 23 steals, second among bench players. She registered one game of double-digit points, scoring 14 in the first round of the Central Regional quarterfinals against Northern State.
16.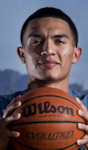 Ruben Silvas (Pascua Yaqui Tribe) is a 6-3 transfer guard from Tohono O'odham CC to the University of Alaska-Fairbanks, at TOC last season he a veraged 11.6 points, 5.3 rebound and 2.1 steals as a sophomore for the Jegos.  He hit 56.7 percent of his shots, including 47.4 percent from the 3-point line and averaged 9.7 points and 4.0 rebounds while shooting 57.6 percent as a rookie. He helped TOCC to a 19-13 record, with a 15-8 mark in conference play and was instrumental in getting the Jegos team  toadvance to conference title game. With only 4 returners to the University of Alaska Nanooks and 12 new faces, Ruben will look to compete for a starting spot this season. Also, Ruben is the first member of Pascua Yaqui Tribe to ever earn collegiate basketball scholarship.
17.

Chelsey Biegler (Cheyenne River Sioux Tribe) is a 5-10 senior guard for Black Hills State University, last season Biegler came back strong yet again in her third year in the program as she became the first Jacket to earn consecutive First Team All-RMAC honors after finishing near the top 10 in the conference in scoring with 14 ppg, 3.6 rpg, 1.9 apg, and 1.8 steals per game in 2013-14.  Biegler started all 26 games, averaged 28.1 minutes per game, and finished with 366 points. She shot 47.7-percent after going 115-of-241 from the field, which included 37 three-pointers. Bielger went 99-of-133 on free throws (74.4-pct) and had 94 total rebounds (65 defense, 29 offense). She was effective on the defensive end as well by grabbing 48 steals. Beigler averaged 20 points per 40 minutes played over the course of the season. Chelsey helped lead the Yellow Jackets to the RMAC championship game where she knocked down a game high 27 points. She was named to the All-Tournament team and RMAC All-Conference team as well.