10 Native American Basketball Players to watch this 2014-2015 College Basketball season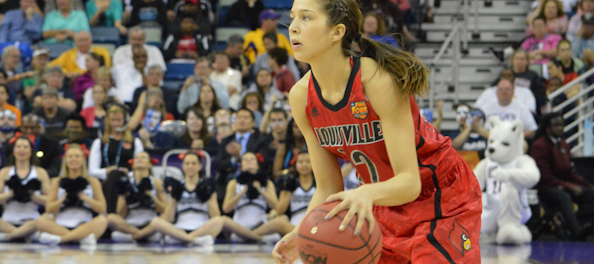 by Brent Cahwee, NDNSPORTS.COM
Just like last year's popular story we wanted to celebrate the start of the 2014-15 college basketball season by highlighting some PLAYERS TO WATCH  from Indian country this year. Colleges all across the country have many athletes representing dozens of tribes and participating in a variety of divisions, such as the NJCAA, NAIA, and all the divisions of NCAA. Indian country will have many newcomers that will look to make significant impacts for their teams as well as others players that have already established themselves as the best players in the country.
This is not by no means a complete list of every single native athlete that is participating in college basketball, this is just a small taste of players we have noticed over the past few years that could have an impact right away or will continue to have an impact for their university. There are some names you will know and others we hope you will learn. For the latest list of Native American college athletes participating in sports at all levels, check out our College Athlete section on our website to see a list of names we have compiled from all sports, not just basketball:
Now, to start it off( again these are not a ranking on player ability):
1.

Jude Schimmel (Umatilla) – The other part of the dynamic duo known as the Schimmel Sisters begins her final season and with out her former all-american sister Shoni who has already made her name known in the WNBA. Jude returns for her final season and will look to make her own name at Louisville during her senior campaign. Most people don't recall that in Jude's final season of high school basketball, while Shoni was a freshman at Louisville, she actually averaged more points per game than Shoni ever did in High School. Jude is a scorer in her own right and head coach Jeff Walz will look to the 5 seniors on this years squad to be more methodical in their ability to score points. Jude played in 33 contests last season, starting five, and averaged 5.6 points and 3.5 assists per game . She finished second on the team in steals with (54) total. Now in the ACC conference, the Cardinals will have more challenging games on the road as they look to secure another NCAA bid. Look for Jude to light it up form the three point line this season and be a good distributor of the ball.
2.

Bronson Koenig (Ho Chunk Nation) – As a freshman in 2013-14, Bronson Koenig played the role of lead reserve in the UW backcourt. Now a sophomore, Koenig should find himself as a vital piece of the Badgers rotation in 2014-15. Koenig appeared in 37 games a year ago, flashing his immense potential with big games on big stages like his 11 points in the first half of the national semifinal vs. Kentucky. A pinpoint passer with great vision (41 assists to just 18 turnovers), Koenig also has the ability to penetrate or connect from the outside (4-for-4 from 3-point range vs. Minnesota). The former Wisconsin High School Player of the Year, Koenig led La Crosse Aquinas to a pair of state championships during his prep career. Bronson and the Badgers also come in ranked the highest they have ever been ranked in a preseason AP poll at number three. Look for Bronson to continue to improve and eventually move into a starting role.
3.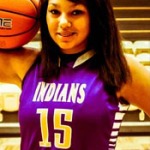 Keli Warrior (Ponca Tribe of Oklahoma) – a  6-1 center for Haskell Indian Nations University out of Lawrence, Kansas, returns for her Sophomore season with the Indians after being named the 2013-2014 Midlands Collegiate Athletics Conference Freshman of the Year last season and earning first team MCAC honors as well. Keli is originally from White Eagle, Oklahoma, but played her basketball at Winnebago Public School. Last season, Warrior averaged 16.3 points per game for the Indians that finished (14-18) overall. Keli finished the season ranked 24th in the nation in two categories, Blocks per game (1.7) and Total Blocks (53).  Already two games in to the current season, Keli has 15 points and 13 points respectively and leads the team in rebounds and blocked shots for the Indians who start (2-0) on the season. A true center, Warrior will continue to get her points in the paint and at the charity stripe for the Indians.
4.

Seth Youngblood (Cherokee Nation of Oklahoma) – is a 6-1 guard for the University of Arkansas – Fort Smith, who also returns for his sophomore season after being named the 2013-2014 Heartland Conference Freshman of the Year. Seth came to the Lions from Roland, Oklahoma and was heralded as one its top recruits. Last season, he started all 28 of the games and led the team in scoring with 14.5 points per game. Seth also averaged 2.5 rebounds per game and was third on team with 55 toal assists on the season. He was also selected to the Heartland Conference Second-Team as well. Youngblood will see most of his scoring come from outside the arc, but look for him to get points from the charity stripe should teams try to neutralize his range.
5.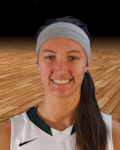 Tesha Buck (Prairie Island Indian Community) – a 5-11 guard for the University of Wisconsin – Green Bay Phoenix, returns for a sophomore season after being named the 2013-2014 Horizon League Freshman of the Year. Tesha was also placed on the All-Freshman team and named to the Horizon League All-Tournament team. Last season, Buck started all 32 games for the Phoenix, averaging 10.4 points and 5.3 rebounds in 30.7 minutes of action. She led the team with 58 steals and was second on the team with 169 rebounds. Tesha finished tied for fifth in the single-season Phoenix record book with 63 threes made and set a program record with 198 threes attempted. She was the first true freshman to be named the starter since the 2009 season for the Phoenix. Look for Tesha to continue to get great shots from behind the arc but also look for her to get more buckets slashing into the paint.
6.

Dwuan Anderson (Grand Traverse Band of Ottawa and Chippewa Indians) – is a 6-4 guard for Wagner College and begins his junior season for the Seahawks as one of two returning starters from last season where he averaged 5.5 points and 3.0 rebounds per game while shooting 36.3 percent (69-of-190) from the field . Anderson, a former Michigan State transfer, is among the Northeast Conference's (NEC) most athletic players and is a SportsCenter Top-10 regular for his highlight reel jams, he has been on the Sportscenter Top 10 list 4 times in his career now. He started 21 games a year ago averaging 22.1 minutes per game and had a career high 12 points last season. Look for Dwaun to have a breakout year in the NEC Conference and watch out for more of his highlight dunks on ESPN.
7.

Shauna Long (Standing Rock Sioux) – is a 5-4 guard for Lamar University and she begins her final season with the Cardinals. Last season, Shauna finished fourth on the team in scoring, averaging 10.5 points per game. Against Texas State, she poured in a career-high 28 points for the Cardinals. Shauna led the team with 67 3-pointers and she currently has 118 career 3-pointers which puts her fifth on Lamar's all-time list and should surpass at least the 4th spot that currently sets at (123). Shuana was also named to the Southland Conference Commissioner's Academic Honor Roll last season. Look for Shauna to continue her roll on the team as the 3-point specialist this season and possibly grab some post season accolades from the conference.
8.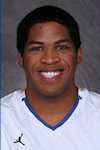 Deforest Carter (Seminole Tribe of Florida) is a 6-1 guard for the Embry-Riddle Eagles out of Daytona Beach, Florida. Carter returns for his final season with the Eagles who are ranked 13th in the NAIA Preseason poll. Last season, Carter was named an Honorable Mention NAIA All-American and a first Team All-Sun Conference selection where he also earned Sun Conference Player of the Week three times. He started in all 32 games for the Eagles last season and led Embry-Riddle with 14.3 points, 5.9 assists, 2.7 steals and 1.3 blocks per game. He also played in a team-high 1,039 minutes for an average of 32.5 minutes per contest. Deforest will cap an already outstanding career this season for the Eagles where he started as being named the Sun Conference Rookie of the Year in 2011 and earned Honorable Mention NAIA All-American the past two season. Look for more accolades for Deforest this season and a possible deep in the NAIA National Tournament this season.
9.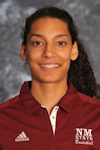 Abby Scott (Confederated Tribes of Warm Springs) – is a 6-1 guard for New Mexico State University out of Las Cruces, New Mexico and returns for her junior season with the Aggies. Last season, Scott saw her role increase from her freshman campaign as her minutes per game nearly doubled (26.6) and she started in 20 games on the season. She concluded her second season as an Aggie averaging 10.8 points per game and three rebounds per game. Scott scored in double-figures on 13 different occasions including seven of her last eight games played. Scott recorded a career-high 36 points on Jan. 16 in a win against Chicago State. In that game, she also worked her way into the record books by going 11-20 from three-point range which was a new WAC and school record for a single game performance. It also is the most three-pointers attempted in NM State history. Abby is a versatile guard that can shoot from the outside but get into the paint for buckets as well. Look for Abby to continue to grow as player and have another great season for the Aggies.
10.

Sandy Cohen, III (Oneida Tribe of Wisconsin) – is a 6-6 Freshman guard beginning his college career with the Marquette Golden Eagles this season. Sandy was a Consensus top-100 nationally ranked recruit  and ranked as high as 83rd by ESPN.com, 87th by Scout.com and 97th by Rivals.com. Sandy led Seymour High School to two conference championships during his career, while being named conference player of the year his senior season He tallied 21.3 points per game in 2013-2014 season and led Seymour High School to a 23-2 record during his senior season. He was tabbed All-State Honorable Mention by the Wisconsin Basketball Coaches Association during his junior campaign in which he averaged 16.6 points and 7.2 rebounds. Sandy is an above the rim slasher to the rim type of player that can step out and hit the long rang shot as well.
Best of luck to all of these athletes as well as the other native athletes that are competing all across Indian Country.  As we stated before, this isn't a complete list of all the Native American athletes competing but some of the ones we think that should have big impact this season for their respective teams. If you have or know of any native athletes that compete at the college level, we would love to hear about them. You can submit them to us on our Facebook page.