Stand Lovato (Pueblo/Euchee) Drops 35 points for Haskell; Leads NAIA D2 in Most 3-pointers So Far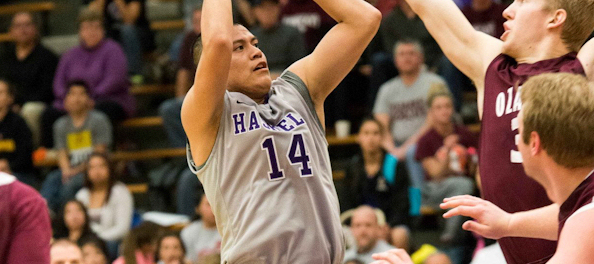 By Brent Cahwee, NDNSPORTS.COM
(Lawrence, Kansas) – It has been no secret in the NAIA that Haskell Indian Nations University's Stand Lavato is the guy most teams look to shut down once he receives the ball on the court. Teams will look to trap the 6-1 senior shooting guard, that hails from Sapulpa, Oklahoma, when they can find him on the court as he is crafty guard who is fast and has a quick release.
Last season, Lovato (Santa Domingo Pueblo/Euchee Tribe) had three games in which he scored 30 or more plus points and 20 games overall of scoring in the double-digit category. He ultimately led the Indians in scoring at 14 points per game, which was good enough for him to be named second team all-conference in the Midlands Collegiate Athletics Conference (MCAC). He was the only player last season, from Haskell, to be named an MCAC Player of the Week which came on the heels of one his 30 point games.
While the Indians are not off to the start they have hoped, already four games into the season Stand hit his career high of 35 points in a loss to Kansas Wesleyan University. It was his second game of the season where he has already scored in double digits. While most Haskell fans are used to Stand putting up good numbers, one number he probably didn't expect to hit was (9 of 11) from the 3 point range, which is where typically Stand gets his points for Haskell.
As of today, according to the NAIA Stat website, Stand Lovato has the most 3-pointers made in a game so far this season(9). The high for the 2013-2014 in all of the NAIA Division II was 12, so if only for a while Stand will hold the top spot in the NAIA until someone else tops it or Stand tops himself.
Stand is currently averaging 17 points for Haskell four games into the season and is definitely playing like a senior should be playing in his final season.
Best of luck to Stand and all of the Haskell players this season.