Haskell Men Start Out Strong But Fall to McPherson On Opening Day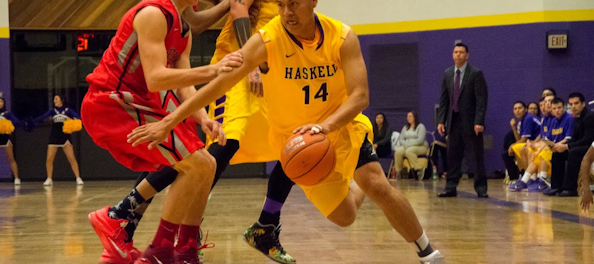 by Reid Williams, Haskell Indian Leader Newspaper
Haskell's Men's Basketball Team tipped off the season tonight against McPherson. The Indians got off to a fast start thanks to Dallas Rudd scoring at the start of the game. Haskell came out ready to play and really put it to the Bulldogs. The Indians had a 19 to 13 lead with 9:26 left in the first half. As the half continued McPherson was able to narrow Haskell's lead to only 2 thanks to 10 first half points from #1 Tj Grant. With the clock winding down Stand Lavota drove the ball baseline and hit a huge buzzer beating jump shot to give the Indians a 45 to 41 point lead.
After an entertaining half time show from Haskell's Dance Squad the boys came back out hoping to extend their lead. Unfortunately this would not happen. The Bulldogs came out on fire and quickly erased the Indians half time lead. Late in game when victory was slipping away from the Indians A'ram Johnson and Blake Pittman hit back to back big shots to give the Indians a much needed spark and cut the Bulldog lead to 10 but that spark was short lived. McPherson would end up running away with this game. The final score was 94 to 81 in favor of the Bulldogs.
Even though Haskell came up short they did show us some positive play that could lead to future success. The Indians got after it on the defensive side of the ball and are a very well rounded team. Four players had double digit points for the Indians. Stand Lavota led the way with 19, Blake Pittman had 17, Dallas Rudd finished up with a solid 16, and Randy July posted 13 points.
Haskell looks to pick up its first win of the season on November 4th at Midland University. That game will be the first of back to back road games for the Indians. After the game at Midland they travel to Ottawa on November 7th before returning home on November 11th to play Kansas Wesleyan. Tip off for the Kansas Wesleyan game will be 7:30 P.M. So be sure to come out and cheer on your Indians.
(Story used with permission of the Haskell Indian Leaders Newspaper. All Rights Reserved.)