Haskell Lady Indians Blowout KCAC's McPherson Bulldogs At Home 76-55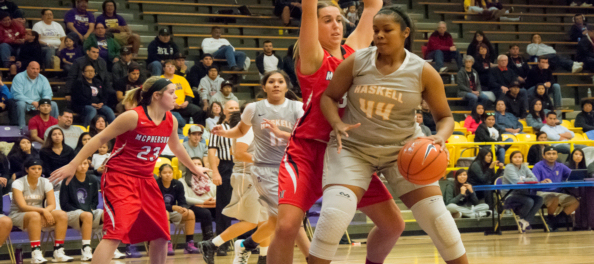 The Fighting Indians improve to 2-0 with a win their second straight win over a KCAC School in the McPherson Bulldogs 76-55
by Charlie Perry
The Fighting Indians played their first home game Saturday night as they played host to the McPherson Bulldogs at the Coffin Complex. McPherson came into the meeting looking for some payback from last year's defeat in which the Indians came out on top 48-42 on the road. The game was a back and forth affair early as each team drained mid range jumpers and worked the paint under the bucket. Guard Kortney Meat helped push the defensive tempo late in the first half resulting in three turnovers by the Bulldogs that the Indians capitalized on by sinking two three point shots back to back. Meat would finish the game with twelve points and two three pointers. As the buzzer rang on the first half the Indians ran into the locker room leading 36-26.
The second half was all the Indians as they keep the pressure on the Bulldogs through a series of half-court traps and double team defensive plays. Jennah Williams led the charge on offense in the second half. Williams had her way with the Bulldogs under the bucket, her efforts in the post resulted in nineteen points to lead all scorers. McPherson tried to rally a comeback, cutting the Indians lead from twenty one to eight points with just over eight minutes remaining. Kelli Warrior took notice and stepped up to put the game away. Warrior went 9 of 10 from the free throw line showing a great improvement on a 60% free throw average as she ended the game with thirteen points. The Indians were able to extend their lead and ended up winning the contest 76-55.
Coach Shane Flanagan  was asked about his views on the early season match ups with Kansas Collegiate Athletic Conference opponents such as Bethany and McPherson,"I like playing KCAC teams, I think we match up pretty well and traditionally the KCAC has always looked pretty good. I'm really excited to play these teams and think it sets us up well for MCAC play. I'm giving the girls tomorrow off and then we'll see what happens.
Haskell Improves to 2-0 and will face Park University on November 6th at the Coffin Complex at a scheduled time of 5:30 P.M.
(Story used with the permission of the Haskell Indian Leader newspaper. All Rights Reserved)