Washington State's Taylor Mims (Crow) leads match with 23 kills but Cougars fall to Oregon State, 3-1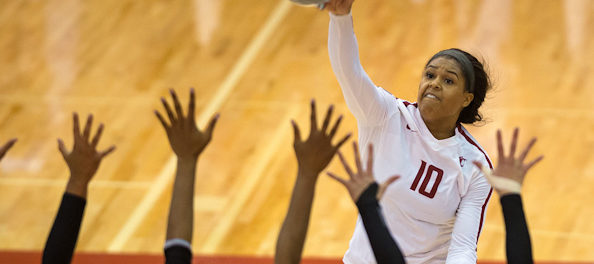 CORVALLIS, Ore. — The Washington State volleyball team (16-14 overall, 5-13 in Pac-12) battled back from a slow start but fell to Oregon State (21-9, 11-7) with set scores of 25-17, 25-21, 6-25 and 25-22 Sunday afternoon at Gill Coliseum in Corvallis.
Junior Taylor Mims (Crow Tribe) led the match with 23 kills while hitting .288, and served one ace, had 15 digs and six blocks. Ella Lajos contributed nine kills (.300) and nine blocks. Savanah Smith had six kills and Jocelyn Uriasadded five kills. Ashley Brown had 33 assists, three kills and one ace. Alexis Dirige had a match-high 21 digs, and Olivia Coale had 11 digs.
Claire Martin led the match with her season-best 10 blocks as WSU tallied 14.5 blocks, nearly triple the 5.0 blocks for OSU.
In team statistics, Oregon State, a team receiving votes in the AVCA Top 25 Coaches Poll, landed 52 kills on 166 attacks for a .187 hitting percentage while WSU had 49 kills on 150 attacks for a .220 hpct. The Cougars had the edge in digs, 76 to 74 as OSU landed four aces to WSU's three.