United Tribes wins two games in Minnesota pushing their winning streak to Six; Pendleton records triple double in win over Central Lakes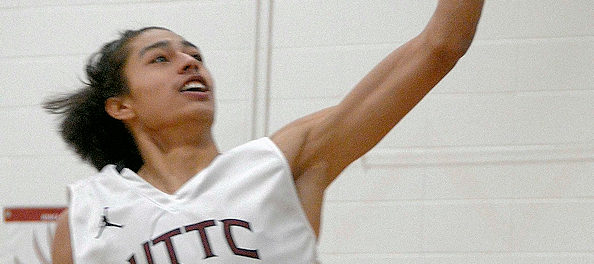 The United Tribes men's basketball team traveled to Minnesota for two road games this past week and came away with two wins.  On the first night of the road trip the Thunderbirds took on the Leech Lake College Lakers.  They raced out to an early lead and cruised to victory 110-60.  Rob McClain led all scorers with 23 points and also chipped in 6 rebounds.  Xavier Norris continued to shoot the ball well and finished with 16 points.  Ernest Grant came off the bench and knocked down 5 three pointers on his way to 17 points.  Montel Carlow reached double figures with 11.  Jacob Martin led the team in assists with 11 and also had 6 steals.
The second night of the road trip saw the Thunderbirds facing the always tough Central Lakes Raiders on their home court. After a sluggish start Tribes trailed 43-38 going into the locker room at halftime.   The Thunderbirds came out of the gates firing in the second half and knocked down two three pointers in the first minute to take the lead 44-43.  They never trailed again and pushed the lead to as much as 15 in the second half.  They went on to win by a final score of 95-89.  Sam Pendleton paced the Thunderbirds with a triple double.  He had 15 points, 14 assists, and 13 rebounds.  Rob McClain led all scorers for the second night in a row with 18 points.  He also had 9 rebounds and 5 steals.  Xavier Norris had 16.  Jacob Martin had 14 points and 7 assists.  Robert Beaulieu had 8 points and snared a game high 14 rebounds.
The Thunderbirds are 7-1 on the season and play host to Turtle Mountain Community College on Tuesday, November 21st at 7:30 p.m at the Thunderdome.  The Thunderbird women tip first at 5:30 pm.