Derek Willis (Arapaho/Pawnee) Scores 14 Points for Grand Rapids Drive who fall to Canton Charge in Overtime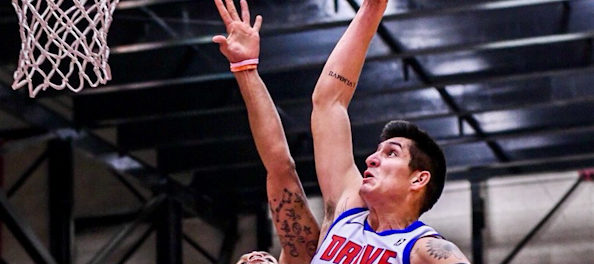 CANTON, Ohio — The Canton Charge (2-3), powered by the Cleveland Cavaliers, handed the Grand Rapids Drive (4-4) their fourth straight loss in a 107-104 victory in overtime at The DeltaPlex Arena on Saturday night. Both of Canton's wins in the young season have come in extra time.
Grand Rapids challenged possession in overtime with a 104-103 lead and 5.5 seconds left, but ultimately drew a technical foul for not having any timeouts left to do so. John Holland tied it with the penalty free throw, with Canton's possession to come. Marcus Thornton took the inbounds pass at the top of the key and drew contact on a three-point attempt for three more foul shots. Thornton hit all three and the Charge got stops on two separate inbounds plays on the other end to seal the win.
Canton's Holland led all scorers with 33 points, including hitting 11-of-13 from the foul line, with four rebounds and four assists in 44 minutes. Marcus Thornton scored 20 points and grabbed eight rebounds in 43 minutes. JaCorey Williams added 12 points and eight boards in 37 minutes. Akeem Springs came off the bench for the Charge to add 12 points on 5-of-9 shooting and two blocks in 26 minutes.
Dwight Buycks netted 33 points with seven rebounds and five assists in 44 minutes to lead Grand Rapids. Landry Nnoko netted 19 points on 8-of-10 shooting with eight rebounds in 36 minutes. Derek Willis (Arapaho/Pawnee/Creek) added 14 points and three steals in 36 minutes for the Drive.