She'Chem Grant (Navajo/Choctaw) comes off the bench to lead all players with 24 points as Millsaps Notch First Win Over Austin College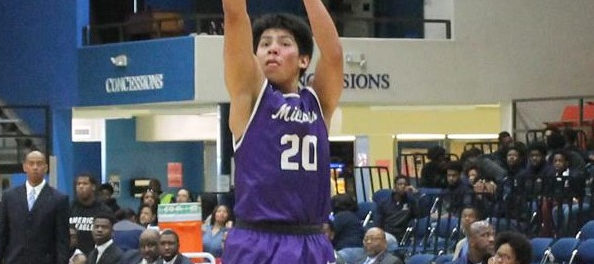 SHERMAN, Texas. – Millsaps came into Sunday night's contest still looking for its first win of the season. When the game was over they earned the victory by defeating the hosts Austin College 81-78 on the last day of the SCAC/SAA Challenge.
Sophomore She'Chem Grant (Navajo/MBCI) came off the bench to led all players with 24 points, making six threes and was perfect from the line. Sophomore Buck Blanz finished the night with 13 points and eight rebounds while sophomore James Turner had 12 points, seven rebounds and four assists. Junior Michael Sullivan dished out ten assists and scored seven points.
Sullivan got things started on the Majors first possession with a three. After Austin College answered quickly with a three of their own, Blanz made a layup, but the Roos hit a jumper to tie the game at five at the 17:52 mark. Austin College rattled off the next six points until Grant got on the board with his first three of the night. Grant followed that with a  jumper and connected on another three with 10:56 to go in the first to bring Majors to within seven.
Millsaps began to pull back into it in the later minutes of the first half. With the Roos on top 24-15, Thaddeus Gonzales began the run with a three. The Majors locked down on defense and only allowed seven points over the final 7:25 of the first, outscoring the hosts 16-7 with threes by Daniel Coleman, Sam Kohnke and two layups by Blanz. Tysin Meads tied the game with a bucket in the final minute of the first to send the teams into the break locked at 31.
The Majors went ahead 41-39 with 17:01 left when Turner got to the rim for layup. Grant then caught fire and made three straight threes to bring the lead to nine points. Austin College pulled back into it, but timely baskets by the Majors kept them in the lead. With under ten minutes to go, Blanz made two layups and Kohnke connected on a three to bring the score to a 65-54 Majors lead.
After Turner's basket put Millsaps up by ten with 5:28 to go, Austin College went on an 11-2 run, tying the game at 73 with 2:40 left. After a Millsaps timeout, Sullivan put them back on top with a jumper. The Majors then converted on their free throws in the closing minutes to hold off the Roos and snag their first win of the year.
With the win, Millsaps improves to 1-2 on the season. The Majors play next on Saturday, November 25th in Memphis, Tenn. against Illinois Wesleyan in the Rhodes Thanksgiving Classic. Game time is scheduled for 1:00 p.m.