United Tribes Thunderbirds Tops Bismarck State to sweep season series with the Mystics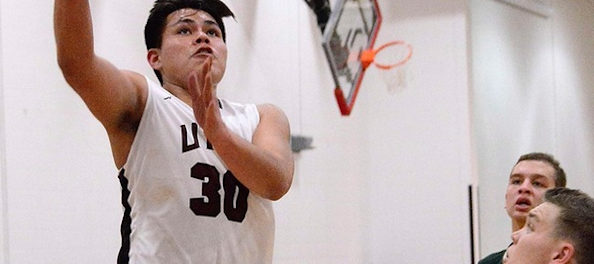 Back in January the United Tribes Men's basketball team held on to win 100-99 at the Armory of Bismarck State College.  The rematch at United Tribes proved to be another high scoring affair as the Thunderbirds made some clutch shots down the stretch and won 121-114.
Tribes fell behind by 10 points early on, but regained control midway through the first half and led 61-54 heading into the lockeroom at the half.  They maintained control of the game the second half behind some hot shooting form Antwan Antonio and some key contributions from the bench.  The Mystics eventually tied the game at 110-110, but some clutch shooting and timely free throws sealed the victory.  "These games are fun," said head coach Pete Conway,  "I told the guys not every junior college in nation has a cross-town rivalry and they are pretty fortunate to have the opportunity to play in a game like this."
Antwan Antonio led the way with a career high 42 points and 10 rebounds.  United Tribes top two scorers were saddled with foul trouble and had to sit much of the second half.  Despite the foul trouble Xavier Norris finished with 19 points and Amaury Matthews continued his fine play with another solid all around performance.  He finished with 15 points, 7 assists, 6 rebounds, and 5 steals.  Tre Williams added 14.  Adrian Farmer, Tristen Redhorn, Daniel Finley, and Bear Mosley provided a spark with 28 points off the bench.  "The bench was huge tonight," Conway added "We really needed a win and I think along with Antwans career night the way we shared the ball with different lineups in the game was key."
The Thunderbirds finished with 31 assists and shot 21-25 from the line.  They next face Lake Region State College on Sunday and finish the regular season with a home game against Williston State on February 23rd.