Caitlyn Ramirez (Seminole) scores 24 points and pulls down 14 rebounds as Troy Downs App State, 86-76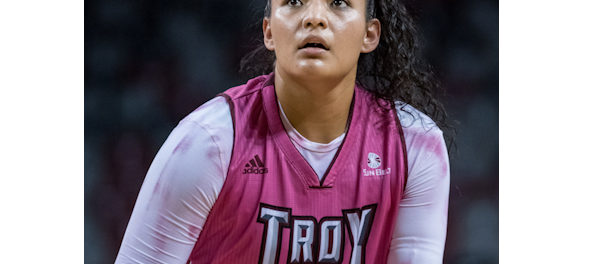 TROY, Alabama – Jayla Chills scored a career-high 27 points and Caitlyn Ramirez (Seminole Nation of Oklahoma) turned in 24 points and 14 rebounds as the Troy women's basketball team defeated Appalachian State, 86-77, on Thursday in Trojan Arena.
Troy (17-7, 10-3 Sun Belt) shot 46.7 percent from the field and outrebounded the Mountaineers 47-38. Claresa Banks came off the bench to score 11 points while La'Tia Fils-Aime' hauled in 10 boards.
The Mountaineers (10-15, 5-9) pulled ahead by seven in the opening quarter before a trio of free throws by Kristen Emerson and a Fils-Aime' layup cut the deficit to one. Troy took its first lead of the game early in the second quarter on a Ramirez free throw and Chills expanded it to four with a jumper just before halftime.
Ramirez was 4-for-4 from the field in the third quarter and helped the Trojans build its advantage 14 points. App State went on a 9-1 run mid-fourth quarter to close the gap to just two points, but Ramirez and Chills teamed up to score 11 of the game's last 24 points and put the game away. Chills finished the game shooting 9-for-15.
QUOTABLE
"We've been looking forward to this game for quite some time now because this team plays so similar to us," Troy head coach Chanda Rigby said. "We knew that the team that could hit the most shots had a good chance of winning this game."
RUN OF THE GAME
Troy opened its lead to 12 points after a 9-0 run midway through the third quarter. Ramirez scored seven straight points before Banks closed the run with a jumper at the 3:10 mark.
UP NEXT
Troy hosts Coastal Carolina in the second and final Play4Kay game of the season. It is also the first meeting all-time between the schools.
NOTABLE
• Jayla Chills finished the game 4-for-4 from 3-point range.
• Caitlyn Ramirez was 7-for-7 from the free throw line.
• Troy scored 22 points from the charity stripe in the game.
• The Trojans improve to 4-1 all-time against Appalachian State.