Haskell Indian Nations University Clinch Birth back to A.I.I. Conference Tournament after 91-54 Win on the Road at Central Christian College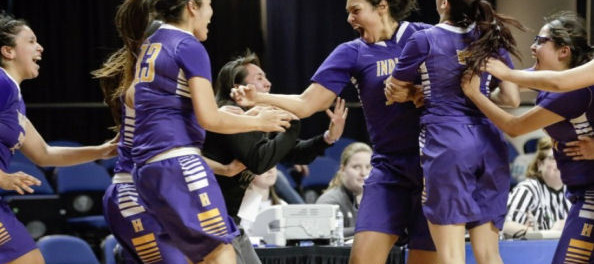 (McPherson, Kansas) – The Haskell Indian Nations University women's basketball picked up an important victory on the road Thursday evening against conference rival Central Christian College. In the final regular game of the season for the Lady Indians, they were able to clinch a bid back to the Association of Independent Institution conference tournament where they are the defending champions.
The Indians left no doubt on the road by beating the CC Tigers by a final score of 91-54 and they were led by seniors Cerissa Honena-Reyes, who had a game-high 21 points and Kortney Meat, who chipped in 18 for Haskell.
The Lady Indians forced 22 turnovers from the Tigers, and at least a quarter or more of those miscues were a direct result of the Indians full court pressure.
At the end of the first quarter, the Tigers were within 11, 13-24, but by the end of the half the Indian lead had expanded to 22 points, 50-28. It was a pretty consistent scoring night for the Haskell offense. They scored 24 in the first quarter, 26 in the second, 16 in the third, and finished with 25 in the fourth.
True Freshman Tahnee Shavings had a career-high 14 points for the Indians off the bench, she was 7-10 from the field and pulled down 4 rebounds. Rounding out the double digit scoring was senior Tinaya Murphy who had 10 points. Other significant scoring were freshman Janee Bates who had 9 points and Justina Coriz who added 7 points.
Next up for the Indians will be a return to the A.I.I. Conference Tournament that will be held in Ozarks, Missouri on Friday, February 24 at 3pm CST. The third seed Haskell Indian Nations University will take on Johnson & Wales in the second quarterfinal. The winner of Northern New Mexico versus Rochester will advance to take on College of the Ozarks at 1pm CST on Saturday. The second seeded Indiana University Northwest Redhawks will take on the winner of Haskell Indian Nations vs Johnson & Wales at 3pm CST. The Championship game will take place on Sunday, February 26 at 2pm CST.
All contests will take place at the Keeter Center on the College of the Ozarks Campus just outside of Branson, Missouri.