UC-Irvine Sophomore Brade Greene (Paiute/Shoshone) Scores 8 Points in Loss to Arizona State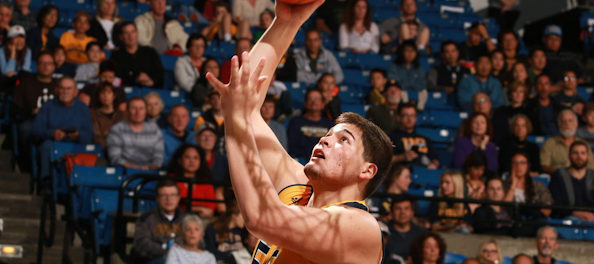 TEMPE, Ariz. — UC Irvine put up a good effort Sunday in Wells Fargo Arena, but were no match for a 61%-shooting day from the host Arizona State Sun Devils as they down the 'Eaters, 99-78.
Both squads came out firing each making their first two shots, then Arizona State (4-0) hit another gear going on an 18-2 run putting UC Irvine (2-3) behind the eight-ball just seven minutes into the game down 22-6.
The Anteaters got within 10, but could never fully reel in the Sun Devils who shot 69.2% in the first half and nailed 10 three-pointers to charge ahead, 56-38.
ASU's surge continued in the second half building up the lead to as much as 21, but the 'Eaters kept up with help from a barrage of three-points from Max Hazzard to keep the game alive.
With just under 10 minutes to go, there was a lot of confusion in the arena as the scoreboard went dark leaving the fans and teams in the dark about the score. UCI took advantage closing the deficit all the way to 11 points for a 76-65 game with eight minutes to go, but that's as close as it would get as the Sun Devils, powered by 35 points from Tra Holder who shot 13-of-15 from the field, put the game away for a 99-78 defeat of the 'Eaters.
"Credit to Arizona State, their three seniors played at a high level. They're good, experienced, expect to succeed, and they were ready," Head Coach Russell Turner noted of the ASU performance. "We need to play better defense. That's what our program is known for," Turner stated as the focus as UCI moves forward to another three-game week starting in Las Vegas, Nev. with the second stage of the Continental Tire Las Vegas Invitational starting on Thanksgiving.
As mentioned, Holder put in 35 points on 13-for-15 shooting that included 6-of-7 from three and a perfect at the line. Completing the trio of guards were 22 points and seven assists from Shannon Evans II and 18 from Kodi Justice while each picked up a pair of steals. The Sun Devils unprecedented sharpshooting marks the only time in the last five years a UCI opponent has shot better than 60%, and just the 13th time in that span a team has even been over 50%.
The 'Eaters did have one of their better offensive performances shooting 45.9% from the field led by a trio of 15-point scorers in Evan Leonard, Max Hazzard, and Tommy Rutherford. Eyassu Worku added 14 of his own as the team knocked down a season-high 12 from three-point land.
Brad Greene (Lone Pine Shoshone-Paiute) added 8 points, 5 rebounds and 1 block.
UCI added an impressive 21 assists on 28 made shots led by five from Hazzard. The Anteaters also claimed the rebound battle as Leonard led the team with seven pushing UCI to a 34-28 advantage.
The 'Eaters head back on the road early next week to conclude the Continental Tire Las Vegas Invitational in Las Vegas with consecutive matchups on Thursday, Nov. 22 and Friday, Nov. 23. The opening contest will have UCI square off with Rider University from New Jersey with a 7:00 p.m. tip. UCI will turn around and play the next day with the opponent and time determined by Thursday's results.