Howard University setter Tamia Dockery (Navajo) dishes 41 assists for Bison who Capture Third Straight MEAC Title; Advance to NCAA D1 Tournament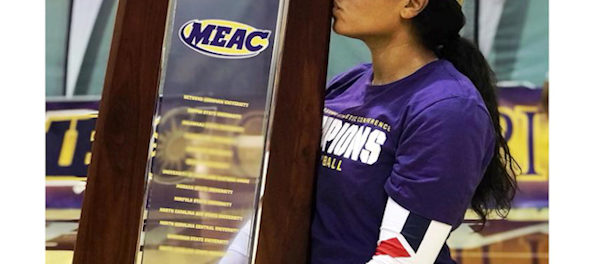 PRINCESS ANNE, Md. (November 19, 2017) – Coach Shaun Kupferberg and the Howard University Women's Volleyball team captured its third straight Mid-Eastern Athletic Conference (MEAC) Title after sweeping the Florida A&M (FAMU) Rattlers (25-22, 25-19, 29-27) at the William P. Hytche Athletc Center. The victory also secured HU's 10th championship in program history.
Additionally, Howard became the first team to three-peat since FAMU won nine consecutive title (2001-09).
"Everyone is different," said Kupferberg, MEAC Tournament Outstanding Coach. "Everyone has different feelings attached to it. This one was a struggle, this one was probably the hardest. We had a long year, we had a lot of injuries, a lot of new players … it was chaos trying to put it all together."
MEAC Player of the Year Khaila Donaldson was named the tournament's Outstanding Performer after flirting with a double-double (nine kills and nine digs).
"It's amazing because this is my last one," Donaldson said. "I'm a senior and this is my last one, and we have a new team who's never been here before, so there's a lot of emotions, a lot of tears – happy tears, thank God – it's just overwhelming."
Fellow classmate Jessica Young led the Bison with a match-best 17 kills while producing a .424 hitting percentage. Young was also named to the All-Tournament Team. Tamia Dockery (Navajo) dished 41 assists in the championship game.
Howard (16-15) was trailing near the midway point of the first set until the Bison chipped away, using a 9-4 spurt to take an 18-17 lead after an ace from senior Carlise Cardoza. FAMU tied the set again on the next point, but Howard maintained control before ultimately winning the frame 25-22.
The second set was tight early until Howard responded with a 5-1 push to go up 11-7 after Young and junior Olubunmi Okunade paired on a block. From that point on, the Rattlers could not get closer than within two; thus, HU took a commanding 2-0 lead after two sets.
FAMU led throughout the third, but again, the Bison slowly chipped away at that lead. Nicole Abreu's kill gave FAMU breathing room at 21-18, but Howard answered with a 5-2 spurt to tie the set at 23-23 on a Jurnee Tipton kill.
There were four more ties, the last at 27-27, before a Young kill and an Abreu error clinched the title.
Sophomore Kira Porter joined Donaldson and Young on the All-Tournament Team after posting nine kills and five total blocks (three solo) against Florida A&M.
The NCAA Division I Women's Volleyball Championship bracket will be announced the Sunday, Nov. 26 before the first round of competition, which begins Thursday, Nov. 30.