U19 Iroquois Nationals Preview for World Field Lacrosse Championships July 7th – 16th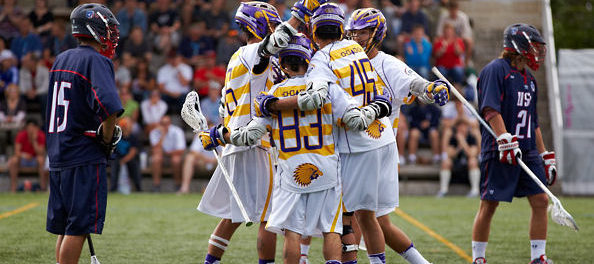 By Chris Vale
The U19 Iroquois Nationals boast one of their most talented rosters for the World U19 games that start this week. Canada and the United States have be the top two teams since this tournament was first formed but both teams were beat by the Nationals back in 2012. The Nationals did lose to team USA in the medal rounds of the tournament though. On attack for the Nat's look for two of the best up and coming players to lead the way Austin Staats and Tehoka Nanticoke both are from Six Nations Reserve in South Ontario. Austin has been a key component on the Six Nations Arrows winning back-to-back Minto Cup championships. Austin also won a Founders Cup in 2013 with the Six Nations Rebels and played on the men's national box team at the world indoor games this past fall and will be attending Onondaga Community College this fall. For Tehoka he will be entering IMG Academy for his final year of high school before going to Albany University he also has won a Founders and Minto Cups so far in his junior career. Other players two look out for are two time Juco All American Mathew Bennett the Onondaga product has had a great career at OCC and should put some big numbers up along with fellow Onondaga attacker Mitch Laffin. Like Tehoka Mitch also players for IMG and is already committed to play for Albany. Also look for Larson Sundown out of Tonawanda and Skkylar Thomas out of Akwesasne who is a top-notch attack man out of Salmon River high school.
The Iroquois Nationals are an attack heavy team I would look for players to run both attack and midfield during this long tournament some Midfielders to check out are Owen Hill out of Akron High school and Ron John out of Lake Shore both are from Upstate New York and committed to Albany. Genesse Community College just won the NJCAA National Championship and will have both Sherman Williams and Jonah Mohawk both looking to put up big numbers on the Nat's roster and both midfielders. Younger high school player Chase Scanlan who is committed to Syracuse should be fun to watch also Onondaga player Percy Booth and Devon Buckshot and Skye Sunday out of SUNY Canton.  Selawnee Baker who is from BC Canada and plays junior box for Langley Thunder can play either attack or midfield as well as Cam Horn who had a great season at Onondaga and is out of Kahnawake. For Face offs you have Doug Jamieson who had a great two seasons at Onondaga and is a box lacrosse goalie for the Six Nations Arrows.
On defense it is not quantity but quality for the Nationals who only have five known poles but all are high caliber. Tyson Bomberry is a veteran who played for the team back in 2012 he has many championships with the Six Nations Rebels and Arrows and just got done with his Freshman year at Syracuse. Also you have Albany players Chaunce Hill who is Owens older brother and Colyn Lyons who should both be starters along with Hill Academy Jerry Staats who is a division one recruit. Trevor Stacey is another long pole that plays Hockey in the QMJHL. In net Brody Bartell who is from Maryland and was one of the best goalies in the NJCAA for Essex should see a good amount of the minuets in net while Tyler Armstrong out of Akwesasne just finished up his high school career at Massena high school.
This team will turn some heads and be one of the more exciting teams to watch at the tournament with their flashy offense and tough defense. The two colleges that are represented most on the roster would be Onondaga Community College and Albany University. Also in junior lacrosse Six Nations Arrows very well represented on the roster. To check out the rest of the roster it is posted down below.
For additional information on the U-19 World Lacrosse Championships, view the tournament website.
| Name | Nation | Territory |
| --- | --- | --- |
| Liam Anderson | Tuscarora Nation | Tuscarora |
| Tyler Armstrong | Mohawk Nation | Akwesasne |
| Sekawnee Baker | Squamish Nation | Squamish |
| Brody Bartell | Cherokee Nation | Cherokee |
| Matthew Bennett | Onondaga Nation | Onondaga |
| Tyson Bomberry | Oneida Nation | Six Nations |
| Percy Booth | Seneca Nation | Onondaga |
| Devon Buckshot | Onondaga Nation | Onondaga |
| Chaunce Hill | Seneca Nation | Tonawanda |
| Owen Hill | Seneca Nation | Tonawanda |
| Cam Horn | Mohawk Nation | Kahnawake |
| Doug Jamieson | Mohawk Nation | Six Nations |
| Ron John | Seneca Nation | Seneca |
| Mitch Laffin | Onondaga Nation | Onondaga |
| Colyn Lyons | Mohawk Nation | Onondaga |
| Teioshontathe McComber | Mohawk Nation | Kahnawake |
| Jonah Mohawk | Seneca Nation | Seneca |
| Tehoka Nanticoke | Mohawk Nation | Six Nations |
| Tonatiuh Salinas | Tuscarora Nation | Six Nations |
| Chase Scanlan | Seneca Nation | Seneca |
| Austin Staats | Mohawk Nation | Six Nations |
| Jerry Staats | Mohawk Nation | Six Nations |
| Trevor Stacey | Mohawk Nation | Kahnawake |
| Skye Sunday | Mohawk Nation | Akwesasne |
| Larson Sundown | Seneca Nation | Tonwanda |
| Skkylar Thomas | Mohawk Nation | Akwesasne |
| Sherman Williams | Seneca | Seneca |
FULL SCHEDULE
2016 U-19 WORLD MEN'S LACROSSE CHAMPIONSHIP
July 7-16, 2016
(Coquitlam Town Centre – Coquitlam, B.C.)
Blue Division: Canada, USA, Iroquois Nationals, Australia, England
Red Division: Israel, Hong Kong, Taiwan, Germany, Mexico
Green Division: Spain, China, Ireland, Scotland, Korea
NOTE: Games marked with * below do not count in respect of pool play divisional rankings.
July 7
Opening Ceremonies, 5:30 p.m. (Stadium)
Canada vs USA, 7:30 p.m. (Stadium)
July 8
Mexico vs China, 9:30 a.m. (Field 2)*
Israel vs Hong Kong, 10 a.m. (Stadium)
Ireland vs Scotland, 1 p.m. (Stadium)
Taiwan vs Germany, 4 p.m. (Stadium)
Iroquois Nationals vs England, 7:30 p.m. (Stadium)
July 9
Germany vs Mexico, 10:00 a.m. (Stadium)
Hong Kong vs Taiwan, 12:30 p.m. (Field 2)
China vs Korea, 1 p.m. (Stadium)
USA vs Australia, 4 p.m. (Stadium)
Canada vs England, 7:30 p.m. (Stadium)
July 10
Korea vs Ireland, 9:30 a.m. (Field 2)
Taiwan vs Israel, 10 a.m. (Stadium)
Germany vs Scotland, 12:30 p.m. (Field 2)*
Hong Kong vs Mexico, 1 p.m. (Stadium)
Australia vs England, 4 p.m. (Stadium)
Canada vs Iroquois Nationals, 7:30 p.m. (Stadium)
July 11
Mexico vs Taiwan, 9:30 a.m. (Field 2)
Israel vs Germany, 10 a.m. (Stadium)
Korea vs Hong Kong, 12:30 p.m. (Field 2)*
Scotland vs China, 1 p.m. (Stadium)
Canada vs Australia, 4 p.m. (Stadium)
Iroquois Nationals vs USA, 7:30 p.m. (Stadium)
July 12
Scotland vs Korea, 9:30 a.m. (Field 2)
Mexico vs Israel, 10 a.m. (Stadium)
China vs Ireland, 12:30 p.m. (Field 2)
Germany vs Hong Kong, 1 p.m. (Stadium)
USA vs England, 4 p.m. (Stadium)
Iroquois Nationals vs Australia, 7:30 p.m. (Stadium)
July 13
Quarter-Finals
QF1: 4th-Place Red vs 4th-Place Green, 9:30 a.m. (Stadium)
QF2: 2nd-Place Red vs 2nd Place Green, 10 a.m. (Field 2)
QF3: 3rd-Place Blue vs 1st-Place Green, 12:30 p.m. (Stadium)
QF4: 5th-Place Red vs 3rd-Place Green, 1 p.m. (Field 2)
QF5: 4th-Place Blue vs 1st-Place Red, 3:30 p.m. (Stadium)
July 14
Semifinals
9th to 12th Place Bracket
9-12 SF1: Winner of QF1 vs Loser of QF2, 12:30 p.m. (Field 2)
9-12 SF2: 3rd-Place Red vs Winner of QF4, 1 p.m. (Stadium)
5th to 8th Place Bracket
5-8 SF1: Loser of QF5 vs Loser of QF3, 3:30 p.m. (Field 2)
5-8 SF2: Winner of QF2 vs 5th-Place Blue, 6:30 p.m. (Field 2)
Championship Semifinals
Championship SF1: 1st-Place Blue vs Winner of QF5, 4:30 p.m. (Stadium)
Championship SF2: 2nd-Place Blue vs Winner of QF3, 7:30 p.m. (Stadium)
July 15
Positional Games
13th Place, 10:30 a.m. (Stadium)
11th Place, 1:30 p.m. (Stadium)
9th Place, 4:30 p.m. (Stadium)
7th Place, 7:30 p.m. (Stadium)
July 16
5th Place, 10 a.m. (Stadium)
Bronze-Medal Game, 1 p.m. (Stadium)
Gold-Medal Game, 4 p.m. (Stadium)
Closing Ceremonies