Ron Baker (Potawatomi) scores 14 Points for Knicks who defeat the Clippers in OT at NBA Summer League – Orlando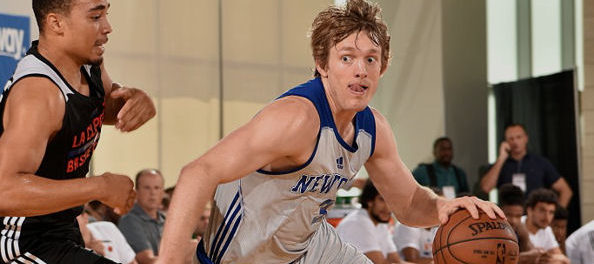 by Juan Blanco via RotoWire.com
After two uninspiring games, the New York Knicks finally showed up Tuesday, defeating the Los Angeles Clippers, 92-84, in overtime in the Orlando Summer League at Amway Center.
The Knicks (1-2) failed to top 50 points in each of their first two games, but they came up big at crucial moments Tuesday. Trailing, 84-82, with less than 30 seconds to play, Ron Baker stole a pass from the Clippers' David Michineau and then connected with J.P. Tokoto on an alley-oop dunk that sent the game to overtime.
In the two-minute extra session, the Knicks clamped down defensively, blanking the Clippers, 8-0, to run away with their first victory. The Clippers (0-3) had more turnovers (three) than field-goal attempts (two), failing to take their first shot from the floor until there were 17.2 seconds left in overtime.
Los Angeles was often its own worst enemy, committing 28 turnovers and coming up empty from beyond the arc on eight attempts. Brice Johnson led the way once again, totaling 23 points, seven rebounds, three assists and two steals. Diamond Stone had 20 points and seven boards, while Michineau scored 16, though he committed a game-high nine turnovers.
For the Knicks, Chasson Randle scored a game-high 24 points in 33 minutes off the bench and had a team-high six steals. Ron Baker (Citizen Potawatomi) had 14 points, DaJuan Summers (13 points) and Devin Booker (10 points) joined him in double figures.
Both teams face the Orlando White next, with the Knicks playing Wednesday and the Clippers on Thursday