Tyria Heath (Menominee/Mohican) Scores Career-High 21 Points for Grinnell Pioneers in a 67-57 win over Iowa Wesleyan University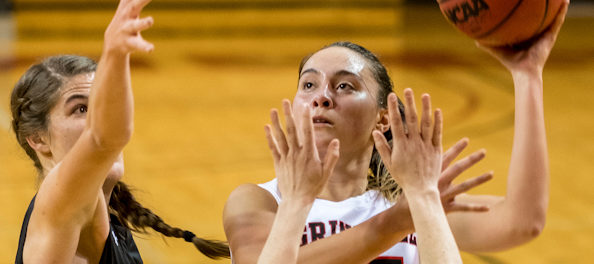 GRINNELL, Iowa – A huge second period propelled Grinnell College's women's basketball team to a lead it wouldn't relinquish in a 67-57 win over Iowa Wesleyan University Tuesday night at Darby Gymnasium.
The victory, sparked by a 23-11 scoring edge in the second frame, snapped a four-game losing streak to the Tigers dating back to 1992 as Grinnell improved to 3-2. Iowa Wesleyan fell to 0-6.
Tyria Heath's  (Menominee/Mohican) 21 points and Kayla Morrissey '18 provided a solid one-two punch for the Pioneers. Heath erupted for a career-high 21 points on 7-of-10 shooting from the field and 6-of-7 performance from the free throw line.
Kayla Morrissey '18 posted the Pioneers' first double-double of the season with 18 points and 11 rebounds to go along with five assists and a career-high three blocks. She was also 9-of-10 from the free throw line to aid the Pioneers' 89.5 percent success rate from the stripe.
Regan Kasprak '19 added 12 points and four steals. Abby Hellweg '19 had a career-high two steals, while Claire Collier '21 also had two thefts. Mikayla Kricfalusi '20 had a career-high two blocks as the Pioneers tallied seven as a team.
It was all Iowa Wesleyan at the start, as the visitors took a 16-6 lead before settling for a 19-14 cushion by the end of the first period.
After falling behind by nine early in the second quarter, the Pioneers went to work. Heath sparked an 8-0 run with two baskets, while Kasprak and Kricfalusi also scored to bring the Pioneers within 23-22.
The teams went back and forth for a bit before the Pioneers closed out the half on a strong note with a 6-0 run. Nursing a one-point lead, Grinnell got a layup from Kasprak, two free throws from Morrissey and two more charity shots by Kasprak to lead 37-30 at the break.
Grinnell led by as many as 14 in the third period and was up 53-41 entering the fourth quarter.
Iowa Wesleyan got as close as seven down the stretch, but the Pioneers fended off the visitors to secure the win.