Analyss Benally (Navajo) Scores 9 Points for San Jose Spartans who fall late to San Francisco Dons, 87-81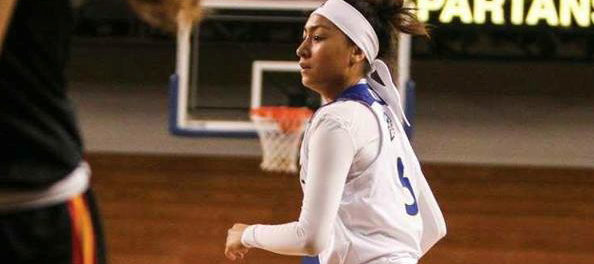 San Jose, Calif. – The San José State women's basketball team held a 78-75 lead against the San Francisco Dons with 4:27 to play, but were held scoreless for the next three minutes and 39 seconds and lost 87-81 on Friday night in The Event Center.
The Spartans (2-5) had three players in double figures led by Taylor Turney's 20 points. Myzhanique Ladd had her first double double of the season with 16 points and 11 rebounds, both season highs. She led the team with five steals and also dished out three assists. Danae Marquez had a career-high 10 points; posted a team-best five assists, and also forced three steals. Analyss Benally (Navajo) scored 9 points for the Spartans.
After a pair of Ladd free throws with 4:27 to go in the fourth, which game SJSU a three-point lead, and it looked like USF (3-4) was tired and ready to fall.
But over the next couple of minutes, San José State committed four fouls and turned the ball over three times which led to an 8-0 Dons run. A Turney jumper, with 30 seconds left, stopped the bleeding and got SJSU to within three at 83-80, but the Spartans would get not closer as USF made four straight from the line to seal the six-point victory.
In what turned out to be a tight scoring game throughout, neither team was able to pry open a lead of more than six points.
SJSU, which shot 40 percent overal, started out red-hot. In the first period they hit 7-for-12 from the floor, 58 percent, including 3-of-4 from three-point range. San José State jumped out to an 8-3 lead, but USF came right back to tie the game at 10-10 and then forged ahead 16-12.
The Spartans responded with a 9-0 run started on a Fieme'a Hafoka three pointer. Turney scored four in the spurt, but the Dons hit the last two buckets of the period to make it a one-point game heading into the second quarter.
SJSU built a six-point lead early in the second, but couldn't shake USF and the teams went to the half with the Spartans leading 45-42.
In the third period the lead changed hands eight times, and after 10 minutes San Francisco emerged with a five-point advantage 68-63.
Marquez hit a jumper to open the fourth, which USF promptly answered with a three to make it a six-point lead, 71-65. SJSU then went on a 13-4 run in just under four minutes.
Turney hit a layup and a couple of free throws. Mikaylah Wilson scored on a layup and a free throw and Ladd also had a layup and hit four free throws, which made the score 78-75 SJSU with 4:27 to play.
Down the stretch USF's Anna Seilund and Michaela Rakova scored four points each. They were among five San Francisco players to score in double figures.   Nineteen points from Shannon Powell led the team. Kalyn Simon and Rakova each had double doubles.
The Spartans return to action next Thursday, December 7 when they host the Cal State Northridge Matadors. Tip off in The Event Center is set for 7:00 p.m.