Washington State's Taylor Mims (Crow Tribe) had a career night with a 28 kills and 22 digs to lead the Cougars to a 3-1 win over Florida State in the NCAA First Round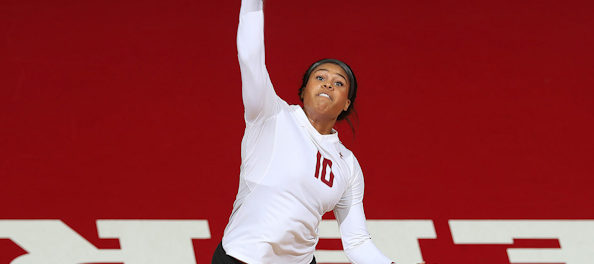 LINCOLN, Neb. — Taylor Mims (Crow Tribe) had a career night with a 28 kills and 22 digs to lead the Washington State volleyball team (18-15) to a 3-1 won over Florida State (18-11) in the NCAA First Round match Friday evening at Bob Devaney Sports Center in Lincoln, Neb. The set scores were 34-32, 25-14, 23-25, and 25-13.
Four Cougs reached double-digit kills led by Mims' 28, followed by Jocelyn Urias' 13 kills (.444), and Claire Martin and Ella Lajos (.375) with 10 kills each. Mims tallied her ninth double-double of the year and hit .228 for the match. Setter Ashley Brown tallied a career-high 57 assists, a career-high four blocks and served an ace. Alexis Dirige had 25 digs.
The Cougars dominated the blocking category with 16 team blocks. Martin led the match with eight blocks followed by Mims' six, Lajos' five and Urias with four.
Mims' 79 attacks ties Kyra Holt's 2013 WSU record for most attacks in a match and is the WSU record for most attacks in a four-set match. Mims' 31.5 points tonight is the fifth-best in a four-set match in WSU match records.
WSU hit 272 for the match and held the Seminoles to a .133 hitting percentage. The Cougars won the kills category 70 to 52, digs 83 to 77, aces two to one, and blocks 16 to seven. WSU had 180 attacks with 21 errors while Florida State had 181 attacks and 28 errors.
WHY & HOW…
WSU Head Coach Jen Greeny said, "I'm very proud of this team for beating a very, very good Florida State team. I thought we came out pretty well. It was a little shaky, we got to go to some extra points there in the first set. In the second set, we were definitely more relaxed, our serving picked up. We made some kind of silly errors in the third set and then got back to Cougar volleyball in the fourth set. Very proud of this team and just advancing."
On the importance of winning the first set Greeny said, "Absolutely, I thought to be able to pull that out was huge for us. It's definitely great to win the set, but it's much worse to lose it. Especially we were up by quite a few points, they came back, the momentum shifted a lot, and there were some great rallies. But anytime you can take the first set, especially in a battle like that, I mean we ran out of subs. Savanah Smith had to serve, which she has done one other time when we ran out of subs. So that was huge, and we had some great defensive plays and some good blocks, some great timing in that, great momentum to be able to carry that in to set two. We had a little extra rest during that game-break too. I told everyone to take some rest and have a snack."
On winning the first set, junior outside hitter Taylor Mims said, "I think it was huge, it was a big momentum shift, I feel, onto the second set. Those crazy rallies as you guys saw, I think they really kept us in the game. The crowd got involved and got us pumped up so I think it was really important. "
On her career night, Mims said, "I think our back-row-attack connection works pretty well. I think that's the best I've ever hit out of the back row this entire season. I think that really kept us going and our defense really picked up as well and that gives us the option to run our offense."
Washington State (18-15 overall) takes on No. 5 seed Nebraska (27-4) Saturday night at 5 p.m. PT in the Bob Devaney Sports Center in Lincoln, Neb.