Two South Dakota Youth Have Hoop Dreams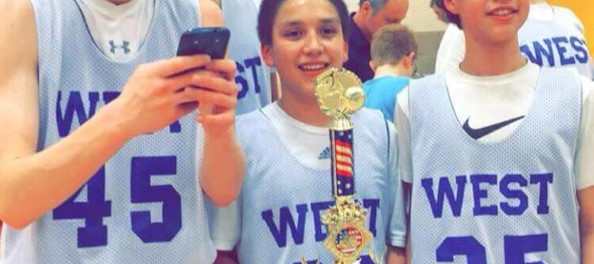 By Dale Pine, Jr.
Two young South Dakota hoopers have showed a glimpse of the future with their talents on and off the court.
Both led their teams to their respective league championships as graduating 8th graders and while both have different backgrounds, they each have similar hopes and dreams, as well as the work ethics to back them up.
Corey Brown, a 6'2″ guard/forward, recently graduated from Pine Ridge Middle School and will be a freshman this coming fall. He guided his team to the Oglala Oyate Conference tournament championship with an undefeated record. Known for his dunking ability, Corey is also one of the best passers on the teams he plays for and scores while being double and triple teamed by opposing teams. His efforts have earned him several MVP awards at various tournaments.
"Some of my best memories are winning the Jr. High tournament in Fort Hall, Idaho, the Dog Soldiers tournament in Oklahoma, and the big tournament in North Dakota," said Corey when asked about his most memorable victories. "I hope to accomplish winning a state title with my team and I want to get athlete of the year as a single accomplishment," said Brown.
His older brother Orie was a first team all-stater for Pine Ridge High School in 2011 and his other older brothers, twins Jesse and Jake, each helped Pine Ridge to qualify for the 2013 and 2014 state tournaments. "I started playing basketball when I entered sixth grade," said Corey. "My basketball role models are Kobe Bryant and my big brother Jesse Brown."
On graduation day, Corey was announced as the recipient of the Trace Davis Memorial Award, given to an all-around student who is involved in school activities.
Naden Joaquin is a 5'1″ guard who helped guide West Middle School to the City-wide championship in Rapid City as a starting guard for the "A" team. He is of Cheyenne River Sioux and MHA Nation descent. Naden has worked on his game at the Warwick Workouts and South Dakota Tech camps.
"He spends endless hours with his step-dad, Dom Saucedo, working on his inside jumper and just getting to the hole," said his mother, Sara Saucedo. "Dom works a great deal with him on his dribbling." Dom made a Rapid City Journal sports headline when he made the game winning basket as time expired for Red Cloud in the 2001 district championship game. "My short term goals are to make the basketball team at Rapid City Stevens and (eventually) move back to the rez and play for the Cheyenne-Eagle Butte Braves," said Naden. "I've been dreaming about winning a LNI championship since I was about five years old."
Naden was born on the day that his dad and uncle Gideon won the 2000 LNI championship for the C-EB Braves. He has played with Rapid City Elite team in several tournament this spring, including individual scoring games of 38 and 30 points in a Pine Ridge tournament which prompted spectators to ask, "Who is this kid?" As a 5th grader, he won the Rapid City Elks free throw shooting contest and qualified for the state finals in Pierre.
"My long term goals are to go to college and play basketball. Graduating high school and college are definitely at the top of my list," said Naden. He is pre-registered at Rapid City Stevens High School for this coming fall