Zack Miller (Seneca Nation) adds 3 Points for Denver Who Advance to NCAA Championship Game after Defeating Notre Dame in OT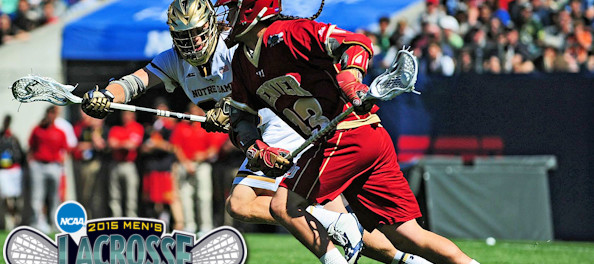 PHILADELPHIA — Tewaaraton Award finalist Wesley Berg (Coquitlam, B.C.) completed his 29th career hat trick with 2:03 to play in the first overtime to send the No. 4 seed University of Denver men's lacrosse team to an 11-10 overtime win over No. 1 seeded Notre Dame on Saturday afternoon in the first National Semifinal at Lincoln Financial Field. Denver will play in its first title game on Monday (11 a.m. MT/ESPN2).
Sophomore Tyler Pace (Coquitlam, B.C.) led Denver with four points on a pair of goals and a pair of assists, including an assist on Berg's extra-time winner. Classmate Zach Miller (Steamburg, N.Y./Seneca Nation) added three points, tallying two goals and a helper in the NCAA Semifinal.
Senior goalkeeper Ryan LaPlante (Fort Collins, Colo.) made 13 saves for the second-consecutive game, including six saves in the third quarter. USILA First Team All-American Trevor Baptiste(Denville, N.J.) won 15-of-24 faceoffs, including 7-for-9 in the opening 30 minutes. 
Denver struck first in the national semifinal, getting goals from Pace and an extra-man goal from junior Jack Bobzien (Littleton, Colo.). Notre Dame quickly responded with two goals of its own 3:02 apart from one another to knot the score back up at two. The two teams alternated goals in the first half of the second quarter, including a nifty two-step move from Miller to give Denver a 3-2 lead with 9:07 to go in the second. With the score knotted at 3-3, USILA First Team All-American Connor Cannizzaro(Cazenovia, N.Y.) showed off his own dance moves, this time from behind the cage, turning his defender around to make it 4-3.
With a one goal lead after the opening 30 minutes, LaPlante made four saves, all in the first quarter, and Baptiste won 7-of-9 faceoffs.
The two teams scored a goal apiece in the first 14:59 of the third quarter before Mike Riis (Carlsbad, Calif.) caught an outlet pass from LaPlante and took it the entire way down the field, scoring his first of the season and the third of his career with 0.9 seconds left on the third quarter clock. Berg scored Denver's first goal of the third quarter, giving the Pioneers a 5-4 lead on a bouncer with 7:23 to play in the third.
From behind the crease, Pace fed Adamson in-front for a slam dunk to make it 7-4 with 9:49 to play in regulation. Notre Dame got a man-up strike, breaking a 19:51 goalless streak to cut the Denver lead to 7-5. Miller and Pace teamed up to complete Denver's 5-1 second-half run. The sophomore duo's spurt started with Miller's second beauty of the game, getting the entire defense to shift on a fake pass before rolling towards the crease, and finishing a bullet into the corner. Pace picked up a rebound off the iron for his goal after a shot from Berg, and slammed it home to make it 9-5 Denver with 5:29 to play in the game.
Notre Dame scored five of the last six goals of regulation to make it 10-10, including Nick Ossello's second of the game with nine seconds to play to send the match-up into overtime for the second time this season, and the fourth time in the last five games.
Pace fed Berg who found the winner for the Pioneers to send them to their first National Championship game in program history.
NOTE:
Zach Miller increased his point streak to 36 games (entered week 11th in the nation). Miller has tallied at least one point in every collegiate game.