Tiana Dockery (Navajo) named MVP at 2017 USA Volleyball Open National Championships; Team Wins National Title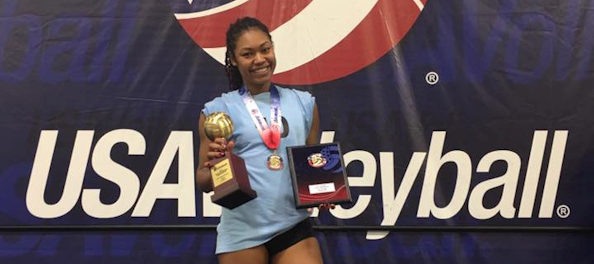 MINNEAPOLIS, Minn. (May 30, 2017) – The Hoosier Exterminators (Hoosier Region) claimed the USA Volleyball Open National Championship in the Women's Open Division on Tuesday at the Minneapolis Convention Center.
The Open Division is the highest level of competition held during the Opens that includes skill levels and master's age division for both men's and women's teams.
Hoosier Exterminators came back through the loser's bracket to win the Women's Open Division title, knocking off Team Iowa Ice 25-22, 25-19, 21-25, 25-17 in the title match to force a Golden Set. In the winner-take-all one set to 25 points, Hoosier Exterminators went up early and never let Iowa Ice back into the set with a 25-20 victory.
Tiana Dockery (Navajo), who was Hoosier Exterminator's leader on the court and named the Women's Open most valuable player, felt her teammates' relaxed nature and team camaraderie played an important role in the championship.
"It means a lot," Dockery said. "We worked really, really hard for this. We really wanted it. All the girls got together and pushed and connected really well. As you can see, the dancing kind of helped."
"It is great. It reminds me of my time playing in New Orleans when we won gold (in U.S. Collegiate National Team program)."
Hoosier Exterminator's Sareea Freeman, who was named to the all-tournament team and has now won three gold in five years in playing at the Opens, was ecstatic on winning the championship even if it meant coming back through the loser's bracket.
"It is super sweet," Freeman said. "One thing, usually there is no double elimination. With the double elimination that helped us to prepare. It gave us more time to prepare and more time to get us together and fight for this. I definitely think we came together as a team. It has been a really long week and been a lot of volleyball. Everybody contributed and that is what makes this victory so much sweeter."
Hoosier Exterminators swept bronze medalist Team GEVA 25-19, 25-15, 25-19 in the loser's bracket final to advance to the title match.