Bacone Colleges' Jackson Thomas (Navajo) Finishes College Career as MVP of the 2017 NAIA Outdoor National Track & Field Championships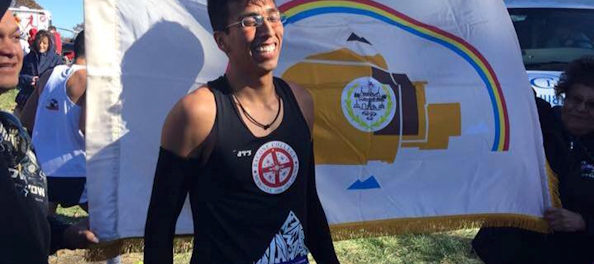 (Gulf Shores, AL) – Jackson Thomas (Navajo), of Bacone College out of Muskogee, Oklahoma, finished his college career as the 2017 NAIA Outdoor National Track & Field Championships Most Valuable Performer after winning the both the 5,000m and 10,000m runs this past weekend.
Jackson has been one of the most successful runners in a few decades for Indian Country and his past two seasons with Bacone are unprecedented for a program that didn't even have a running program just three years ago.
Even at the NAIA level, Jackson still ran impressive times and even defeated NCAA D1 and D2 runners at various cross country and track & field meets through out his career but to finish out on top is fitting to a storied career.
Head Bacone running coach Clay Mayes said, "Jackson almost ran the 1500 and 5000m double, however the 5,000m and 10,000m was a tougher and more admirable route. A lot of runners on all levels, will just run the 5000m at nationals, because it's an event that comes last for distance events and most runners are either tired or fresh because it's their latter race. Jackson and the #2 man(Geoffrey) both where the only contenders to do both the 5k and 10k, as most runners in the field aimed to place well or win the 5,000m by being fresh. Alas, the admirable route and to end on a real dynasty was to race both."
"Needless to say in the 10,000m…. Jackson split a 54.8 for the last 400m. It would be hard for any runner to match this kick. The 10,000m had repeated surges and quickly turned into a 2 man race(Jackson & Geoffrey), as both runners where 200m ahead of 3rd place." said Coach Mayes. (Watch last 500m here: https://youtu.be/LnBrvIyg7mw
Below  are some honors Thomas has garnered while at Bacone:
-2016 Kansas Rim Rock Classic Champ.
-2017 Kansas Relays 5,000m (2016) and 10,000m (2017) champ.
-2016 Sooner Athletic Conference Cross Country Individual champ.
-Facility Record holder at Pitt State for the mile, 4.04 win.
-One of JUST two runners to beat Vincent Kiprop this year, with a slightly tactical 3000m, running 8.03 with a 56 last 400m(also facility record at Pitt State). To brag on Kiprop, Kiprop is a 5 mx D2 champ, just a couple seconds from the D2 national record in 10,000m. Kiprop ran 28.18 10k. Kiprop is nearly as good as any D1 runner, beating a top 15 NCAA XC finisher by over and winning by 1/2 a minute+ at Arkansas's Chile Pepper 8k, with a 23.02.
-Selected as the MVP of the most recent national meet, 2017 NAIA Outdoor Nationals.
Jackson now has 5 NAIA National Titles to his name, as he was essentially unbeatable this past school year:
-2016 NAIA Mile Indoor National Champion
-2016 NAIA XC National Champion
-2017 NAIA Mile Indoor National Champion
-2017 NAIA 5,000m Outdoor National Champion
-2017 NAIA 10,000m Outdoor National Champion
All around with xc and track, Jackson is essentially the most notable collegiate runner for Indian Country these past couple of years.
You can catch some other races here: https://www.youtube.com/channel/UClLgYDPSRNR4YdaLpgrtUpg