Tahnee Robinson (Northern Cheyenne) Elevated to Director of Player Development for Nevada Women's Basketball Program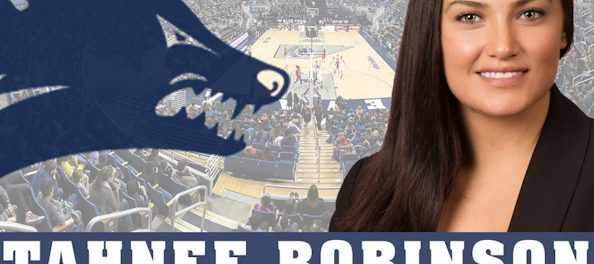 RENO, Nev. – As she begins to finalize her coaching staff, Nevada women's basketball coach Amanda Levens has announced the promotion of Tahnee Robinson (Northern Cheyenne Tribe) to director of player development.
"Tahnee will be a great asset to our staff," said Levens. "Her competitive nature and love for the game that allowed her to be a great player both at Nevada and professionally will carry over to her new position. Tahnee is going to be an excellent coach at this level and as the director of player development she will gain tremendous experience while adding great value to our program."
Robinson spent the last two years with the Wolf Pack serving in a graduate assistant role and earned her master's in educational leadership this past May. During that time she was in charge of helping out at practices and workouts and assisting the other coaches, among other tasks. In her new role Robinson will still assist with workouts but also dive into game preparation, film breakdown and academics.
Arguably one of the best players to put on a Nevada uniform, in just two seasons with the Wolf Pack she posted an impressive résumé of honors, averaging 19.5 points per game en route to becoming one of Nevada's 12 1,000 point scorers. Her play on the court led the Pack to back-to-back appearances in the WNIT and to its first 20-win season in 2010-11.
Robinson was named the Western Athletic Conference (WAC) Newcomer of the Year following her first season and is a two-time All-WAC first team honoree. In 2011 she became Nevada's first WNBA selection, drafted in the third round by the Phoenix Mercury. Since her playing career ended with the Pack, Robinson had played four seasons of professional basketball overseas.