Texas Longhorns land commitments from Indian Country's Top Recruit in Football and Basketball for Class of 2018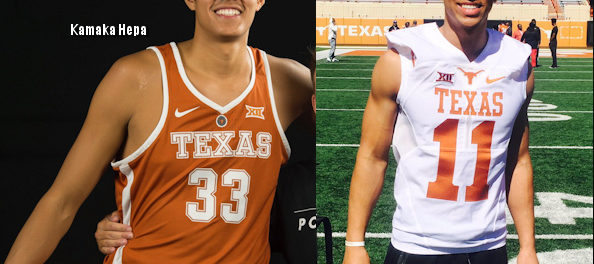 (Austin, TX) – Yesterday, Indian Country's top basketball player for Class of 2018, Kamaka Hepa (Inupiaq), made his verbal commitment to continue his basketball career with Shaka Smart at the University of Texas.
"After talking with my family, my mom and my dad, we have decided that the University of Texas is going to be the best option for me," Hepa told Scout.
"For me, it was not only the relationship that I had, but also that my family had with coach Smart and the rest of the staff as well as going on the trip to Austin. I had a great time, bonded with the players and I really liked the environment. So those were some of the key things and I know a lot of people don't see the fit of me going there but after talking with coach [Shaka] Smart and coach [Darrin] Horn I didn't have a doubt in my mind that I could go down there and affect that program."
Hepa is currently ranked as the No. 50 overall prospect in the 247Sports Composite rankings, the No. 13 power forward, and the No. 1 player in Oregon.
Earlier this year, the Longhorns landed top state of Oklahoma quarterback prospect Casey Thompson (Kiowa Tribe).
A Moore, Oklahoma, native, Thompson ranks as the class of 2018's No. 7 duel-threat quarterback, according to the 247Sports composite. The 6–1 quarterback chose Texas over Oklahoma and is the No. 4 prospect in Oklahoma.
Thompson showed off both his arm talent and athleticism as a junior in 2016, throwing for 2,730 yards and 28 touchdowns while rushing for 586 yards. With his addition, the burnt orange will have ample depth at a crucial position.
Both of these two talented athletes represented the highest ranked Native American preps in Indian Country for football and basketball in the Class of 2019. The chance and odds that both would end up at the same school are probably too high to calculate. Both will have to compete for their spots and may take a few years to develop but they will be a pair to watch over the next 4 years.