Gabby Barker (Shoshone/Paiute) fired a 1-under-par 71 Tuesday to finish in fourth place at the Trinity Forest Invitational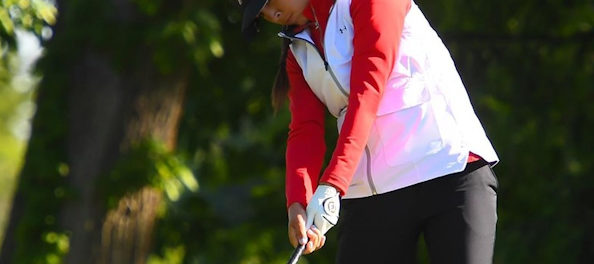 LUBBOCK, Texas – Gabby Barker (Shoshone/Paiute) and Mami Yamamoto both recorded top-five finishes Tuesday to push Texas Tech to a fourth-place showing at the Trinity Forest Invitational held at the Trinity Forest Golf Club in Dallas.
Despite their highest round of the tournament, Tech was able to move up two spots on the leaderboard for its second top-five finish this season. Tech fired a 22-over-par 310 Tuesday to wrap the two-day tournament at 47-over 911 overall.
"This was a tough test for us," Tech head coach JoJo Robertson said. "It was a hard golf course in some tough conditions. Our team hung in there, and I'm pleased with our finish."
Individually, Barker fired a 1-under 71 card over the final 18 holes to move into sole possession of fourth place, her highest finish so far this season. She concluded the tournament with a 5-over 221 final card that was six strokes back of medalist Reid Isaac of Kansas State.
Yamamoto ended the day one stroke back of Barker on the individual leaderboard as her 3-over final round moved the junior to 6-over for the tournament and into a tie for fifth. It marked the highest finish of Yamamoto's career, topping her previous sixth-place showing at the 2015 Henssler Financial Intercollegiate.
Lauren Mason and Louisa Brunt added Tech's other two scores as Mason was 9-over over the final 18 holes, two strokes in front of Brunt. Mason concluded the week in a tie for 26th at 14-over for the tournament while Brunt finished tied for 54th at 22-over. Emma Ballard was 13-over during the final round to round out Tech's lineup.
Kansas State hung on to win the team title as the Wildcats fired the lowest round of the day at 14-over to edge Houston by two strokes. K-State was 29-over for the tournament, 17 strokes better than Tennessee in third place.
The Red Raiders, who were tied with Texas A&M a stroke back of the Volunteers, topped fifth place No. 12 Colorado – the highest-ranked school in the 13-team field – by two strokes and also scored head-to-head wins over No. 29 UNLV and No. 41 BYU.
The Trinity Forest Invitational wraps Tech's fall slate as the Red Raiders will resume their 2017-18 schedule Feb. 11-13 at the Lady Puerto Rico Classic in San Juan. Tech will take part in eight tournaments this spring, including the Big 12 Championships, which will be held April 20-22 at the Dallas Athletic Club.