Haskell Indian Nations University Women's Volleyball Defeat Central Christian College in Three Straight Sets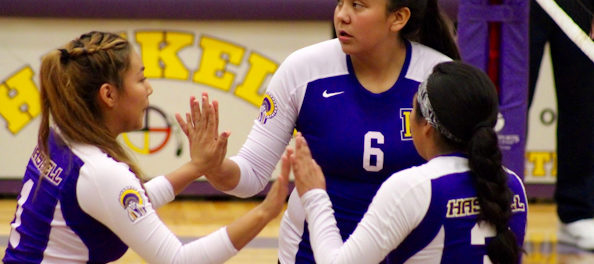 McPherson, KS – The Central Christian College volleyball team hosted the Haskell Indian Nations University Indians on Wednesday night, and fell in straight sets 23-25, 21-25, 22-25.
The Tigers were competitive in all three sets, but just didn't have an answer defensively for Haskell's Alliyah Richards. Richards (Oglala-Lakota), an extremely talented middle hitter, hit .439 against the Tigers with 20 kills on 41 attempts and just 2 errors. She was joined in double figure kills by Cailey Lujan (Navajo) who recorded 14.
In each of the sets, when Richards was in the game, the Indians would make a run and take a lead on the Tigers. When she exited the floor, the Tigers made runs of their own to close the gap. Inevitably Richards returned to the floor late in each set, and when her team needed a big kill she was there to deliver. All three sets were close, but the Tigers just couldn't find away over the hump in the latter stages of the sets.
The Lady Indians will now head to Illinois next weekend to compete in the Association of Independent Institutions 2017 Volleyball Championship on Friday and Saturday, Nov. 10-11, at Lincoln Christian University in Lincoln, Ill.
College of the Ozarks of Missouri, Kentucky Christian University, Haskell Indian Nations University of Kansas will join Lincoln Christian University in the postseason tournament.
Teams will play six round-robin matches Friday, Nov. 10, beginning at 9 a.m. and lasting through 7 p.m. The outcomes of those matches will determine seeding for the semifinal matches, set for Saturday, Nov. 11.
The No. 1 seeded team will face the tournament's No. 4-seeded team in the first semifinal Saturday, starting at noon. The remaining two colleges will play in the second semifinal at 2:30 p.m. The semifinal winners will play for the tournament title at 5:30 p.m.
Tournament Schedule
Friday, Nov. 10
Round Robin begins at 9 a.m. and concludes until 7 p.m.
Each team will play three matches
Saturday, Nov. 11
Noon – No. 1 seed vs. No. 4 seed
2:30 p.m. – No. 2 seed vs. No. 3 seed
5 p.m. – Winner of Semifinal 1 vs. Winner of Semifinal 2