Tesha Buck (Sioux) Scores 22 Points as Lobos take down Western Michigan in opener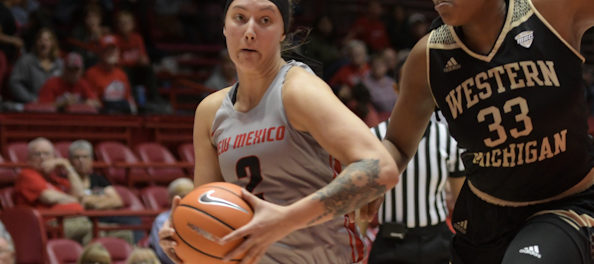 ALBUQUERQUE, N.M. — The University of New Mexico women's basketball team's double-digit advantage was cut to two points by Western Michigan at 71-69 with 6:15 remaining in the contest – a game the Lobos had led from the opening tip.
UNM responded, however, as a Tesha Buck drive to the basket and score ignited a 10-0 run that was capped by an Alex Lapeyrolerie 3-pointer with 3:28 remaining that sent the 4,000-plus UNM fans into a frenzy as the Lobos went on to defeat the Broncos 88-76 Friday night in their season opener at Dreamstyle Arena – The Pit.
The 88 points is the most the Lobos have scored in a contest since beating New Mexico State 92-85 on the road Dec. 2, 2009 (a span of 238 games), and the most scored at home in a game since beating Alcorn State 94-38 on Nov. 15, 2008.
"First thing is I thought we had a great crowd," UNM coach Mike Bradbury said. "They were loud, especially when we needed them there in the fourth quarter. Western Michigan made a huge run at us, got it to two a couple times, which we were expecting. They're really good – very well coached. … Proud of our guys for weathering a couple of storms there and finishing the game and making some big plays."
UNM was paced on the night by Cherise Beynon, Buck and Jaisa Nunn. Beynon nearly had her third career triple-double as she finished with a game-high 24 points to go along with nine assists and eight rebounds. Buck had 22 points – going 5-for-8 from long distance – while adding five assists and Nunn had 18 points and six rebounds.
"It feels really good to play our first real season game, to see where we're at," Beynon said. "It was really good – we have a lot to still work on, but I think our effort is there."
The Lobos came out on fire, starting the game on an 8-2 run with a bucket by Nunn capping the early run at the 6:22 mark. The lead quickly grew to double figures as back-to-back 3-pointers by Beynon and Bryan made it 21-8 with 2:19 remaining in the first quarter.
WMU (0-1) rallied in the third quarter and cut the UNM lead down to one at 57-56 with 2:27 remaining before freshman N'Dea Flye hit a key basket to end the run and start a mini 5-0 run to push the Lobo lead back to six as UNM headed to the fourth with a 65-60 lead.
The Lobos, despite being outsized, outrebounded the Broncos 46-33, including grabbing 13 offensive rebounds. Lapeyrolerie grabbed a team-high 11 rebounds to go along with her eight points while Flye had nine rebounds to go along with her nine points and three assists.
UNM also took care of business at the free-throw line, going 21-for-29 (72.4 percent) thanks to driving to the basket and either scoring or getting to the free-throw line.
"We were just trying to attack the basket," said Buck, who went 3-for-4 from the line. "There were a few times where we had mismatches, but I think we did a good job of just attacking the basket."
The Lobos get right back after it as they host 17th-ranked Marquette 7 p.m. Monday at Dreamstyle Arena – The Pit.