Junior Taylor Mims (Crow Tribe) led the Cougars with 13 kills while WSU Claims 3-0 Win over California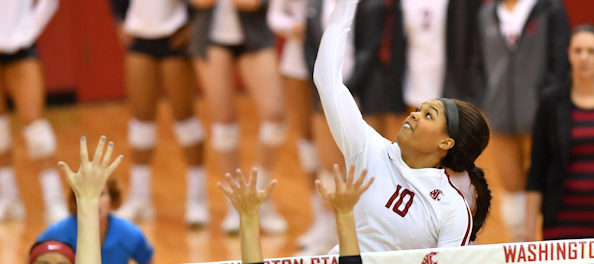 PULLMAN, Wash. — The Washington State volleyball team advanced its record to 15-12 overall, 4-11 in Pac-12 action with a 25-23, 25-21, 25-15 win over California (13-14, 4-12) Friday night in Bohler Gym.
Junior Taylor Mims led the Cougars with 13 kills while hitting .323 and adding nine digs. Junior Ella Lajos had nine kills, hit .471 and had four blocks. Senior Casey Schoenlein added eight kills and hit .389 on the night. Redshirt sophomore Jocelyn Urias contributed five kills with no errors in 10 attacks for a .500 hitting percentage with five blocks and a match-high and career-high four service aces. Alexis Dirige had 10 digs while Penny Tusa and Ashley Brown combined for 32 assists.
WSU hit .351 for the match (41 kills-8 errors-94 attacks), the highest team hitting percentage for the 2017 Pac-12 season and the second-highest hitting percentage this season. California hit .267. The Bears edged the Cougars in kills, 42 to 41, in digs, 41 to 35 and in aces six to five. WSU won the blocking battle nine to three.
MARK YOUR CALENDAR…
Washington State (15-12 overall, 4-11 in Pac-12) returns to Bohler Gym for a match against No. 2 Stanford (21-3, 14-1) Saturday, Nov. 11, at 7 p.m.