Kayla Herrera (Chippewa) had 19 points and 13 rebounds for Skyhawks who Open Season with Double-Digit Win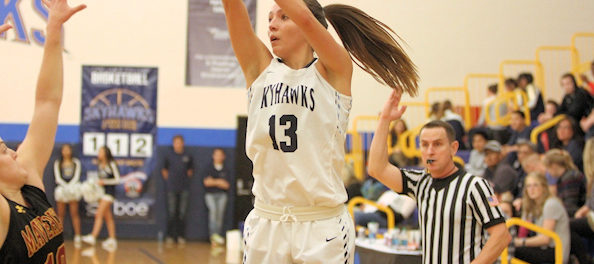 DURANGO, Colo. – November 10, 2017 – The 22nd-ranked team in the nation, Fort Lewis College, defeated the University of Texas-Permian Basin's women's basketball team Friday afternoon by 18 points, 85-67.  The game was the season opener for the Skyhawks in Whalen Gymnasium.
Four Skyhawks scored at least 12 points against the Falcons, including two players with double-doubles.  Freshman Vivian Gray recorded her first collegiate career double-double, netting a team high 20 points and pulling down 10 rebounds.  She also dished out a team high seven assists.
Kayla Herrera (Chippewa) made 8-of-18 field goals and 2-of-5 from the charity stripe for 19 points.  Her 13 rebounds were a game high, with eight of them coming on the offensive glass.  She added three assists and three steals.
Nine of Astrea Reed's 12 points came from the free throw line, where she made 9-of-10 and finished with one field goal.
Kelsey Wainright came off the bench to net 17 points after hitting 8-of-12 from the floor.  She contributed five assists and six rebounds.
The Skyhawks entered the lockerroom at halftime trailing the Falcons, 42-38, and by as many as 13 points in the third quarter.  FLC closed the game in the final stanza, outscoring UTPB, 29-10.
Fort Lewis finished the game hitting 43.1 percent from the floor (28-of-65), and 21.4 percent from long range (3-of-14).
FLC out-rebounded UTPB, 52-36, and scored 33 points off of their 17 turnovers.
The Skyhawks will face Eastern New Mexico University Saturday night at 7 p.m.  The Greyhounds fell to South Dakota School of Mines, 65-57, in the second game of today's Conference Challenge Classic.