Tesha Buck (Sioux) scored 25 points for the Lobos who Fall at Boise State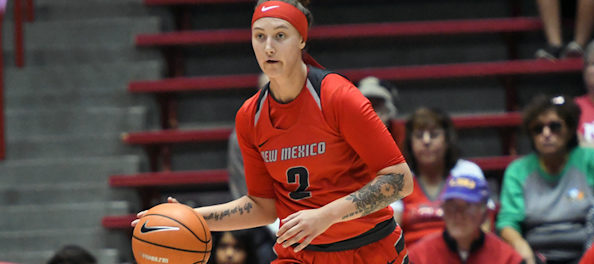 BOISE, Idaho — The University of New Mexico women's basketball team had three players reach the 20-point mark, but couldn't slow down Boise State as the Lobos fell 91-85 Wednesday night at Taco Bell Arena.
Jaisa Nunn (25 points), Tesha Buck (25 points) and Cherise Beynon (24 points) combined for 74 of UNM's (18-7 overall, 6-6 Mountain West) 85 points, however Boise State (14-9, 8-4) shot a blistering 53.2 percent from the field (33-for-62) – including 7-for-15 from 3-point range (46.7 percent) and 18-for-20 from the free-throw line (90 percent) – to avenge a 100-83 loss to the Lobos earlier this season in Albuquerque.
UNM led for much of the first half and by as much as nine points in the second quarter after a Beynon basket with 7:37 left in the quarter. The Lobos' lead slowly was trimmed down to one with less than a minute remaining before Boise State's Tess Amundsen scored just as the buzzer sounded to give the Broncos a 41-40 lead at the half.
The lead swapped back and forth nine times in the third quarter alone with Buck finding Beynon cutting on the baseline for a basket to give the Lobos a 62-61 lead heading into the fourth quarter.
After a Boise State basket gave the Broncos the lead again, Tesha Buck (Mdewkanton Sioux) drained one of her five 3-pointer to give UNM a 65-63 lead with 9:41 left. Unfortunately for UNM, it would be its last lead.
With the score tied at 67, Boise State drained a 3-pointer at the 6:36 mark to take the lead for good – though the Lobos didn't go away. Trailing 86-79 with 36 seconds left, an Alex Lapeyrolerie 3-pointer with 30 seconds left and a Buck fade-away 3-pointer with 13 seconds remaining with a pair of Boise State free throws in between cut the Bronco lead to 88-85.
But Boise State hit one of two free throws with 11 seconds left and the Lobos went scoreless on their next possession as a pair of free throws made the final 91-85.
To go along with her 25 points, Nunn grabbed 10 rebounds (seven of for her Mountain West-best 14th double-double of the season. Buck added six assists, six rebounds and three steals with her 25 points while Beynon had six assists and five rebounds with her 24 points.
The Lobos shot 42 percent from the field (29-for-69), including 38.1 percent (8-for-21) from 3-point range. UNM was also accurate from the free-throw line, going 19-for-22 (86.4).
UNM outrebounded Boise State 33-32 (including grabbing 15 offensive rebounds) and the Broncos committed one more turnover than the Lobos (14-13).
UNM returns home 2 p.m. Saturday to face Air Force in its annual Lobos Love Pink Game from Dreamstyle Arena.