Mariah Stacona (Warm Springs) added 19 points, 10 assists for Eagles who Pull Away in Overtime to Defeat Geoducks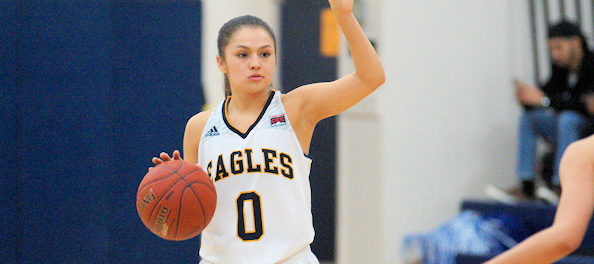 KIRKLAND, Wash. – Northwest University outscored the Evergreen State College 12-7 in overtime to post an 86-80 victory tonight in Kirkland.
Trailing 64-57 with 7:20 remaining in the fourth quarter, Evergreen would chip away at the Eagles lead and with 3:56 on the clock Cayla Jones would tie the game at 66-66 with her 3-pointer. NU's Mariah Stacona would answer right back with a 3-pointer of her own as the two teams would trade the lead in the final minutes. Miranda Langenhorst would put NU ahead 73-71, scoring in the paint with 1:14 to go in the game, but Jahpera McEachin's driving lay-up with 34 seconds to go would tie the game, sending it into overtime.
Emily Henderson would put NU up 80-77 at the 3:07 mark of extra time, but a single free throw by Deidra Miller would make it a two point game, 80-78. Mariah Stacona would then get to the basket for the Eagles and Andie Kristinat would drop two free throws to extend NU's lead to 85-78 with 1:18 left in the game as the Eagles would hold on to close out the game.
Miranda Langenhorst scored 16 of her game high 26 points in the second half and totaled 12 rebounds for a double-double. Mariah Stacona (Warm Springs Tribe) added 19 points, 10 assists and 4 steals with teammate Emily Henderson chipping in 16 points. NU shot 46% for the game and out rebounded the Geoducks 53-35.
Evergreen (9-13, 7-11 CCC) was led by Jahpera McEachin's 24 points. Alexcis Higginbotham score 19 points with 1 rebounds and Cayla Jones contributed 17 points and 11 rebounds for her double-double. The Geoducks shot 43% for the game.
Said Northwest U coach, Ken Crawford, "It was a typical hard fought game with Evergreen. It was a battle throughout, but the Lady Eagles made the plays when needed. It serves as a great springboard as we head towards the end of the regular season and prepares us for the conference tournament."