Tesha Buck (Sioux) Leads UNM Lobos with 14 Points in Exhibition Win Over Fort Lewis Skyhawks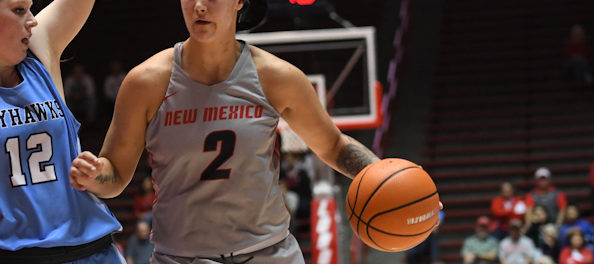 ALBUQUERQUE, N.M. — The University of New Mexico women's basketball team wrapped up exhibition play with a balanced offensive effort and a tenacious defensive performance for a 84-68 victory over Fort Lewis College on Sunday afternoon at Dreamstyle Arena – The Pit.
The Lobos had six players finish with eight points or more – four in double figures – while forcing the Skyhawks – ranked No. 22 in the NCAA Division II poll – into 25 turnovers as UNM led wire-to-wire (and by as much as 28 late in the fourth) to pick up their second exhibition victory in as many tries after defeating Eastern New Mexico on Wednesday, 80-66. UNM opens the season 7 p.m. Friday against Western Michigan at Dreamstyle Arena.
"We were really good (defensively)," UNM coach Mike Bradbury said. "You know, it got a little sloppy in the last five minutes. I don't know what the biggest lead was, it looked like it was close to 30 when we subbed out. But we were much more focused and played much better."
UNM got going from the opening tip, starting the game on a 7-0 run ignited by a Cherise Beynon 3-pointer just nine seconds into the game and capped with a Jaisa Nunn bucket 8:06 remaining in the quarter. Nunn added a pair of free throws less than 30 seconds later as she scored six of the first nine points for UNM.
After suffering an injury last season, Nunn said she feels like she's getting back to her old form.
"I do (feel like I'm ready for the season)," Nunn said. "Now, in that situation, exhibition games are always some sort of practice, and it's also the real thing. Just getting out there and getting those first nerves out. It's the first time I've been on the court in a while. But yeah, I think I'm ready to play."
N'Dea Flye drained a 3-pointer for the Lobos with 5:47 remaining in the first to push the lead to double figures at 14-3 and back-to-back 3-pointers by Tesha Buck (Mdewakanton Sioux) near the end of the quarter gave the Lobos a sizable 28-12 advantage.
The Lobo lead grew to 20-plus points in the second quarter on a putback by Antonia Anderson to make it 45-24 with 1:42 remaining as UNM took a 48-26 lead into the half over the Skyhawks.
UNM's lead grew to as large as 28 in the second half as an Erica Moore three-point play made it 81-53 with 3:21 remaining before the Skyhawks made a run over the final minutes to cut the final margin to 16 points.
Buck and Flye led the Lobos with 14 points apiece with Buck going 3-for-8 from 3-point range to go along with four assists. Flye scored her 14 on just 3-for-5 shooting, but was aggressive and got to the line eight times (making seven) to along with three rebounds and three steals while hounding Fort Lewis ball handlers at the top of the UNM defense.
"Defensively, I feel like I did really well," Flye said. "That's my game, defense. I've worked on it since our last exhibition game, just constantly being on ball and being in the gap."
Beynon finished with 11 points, four rebounds and four assists while Nunn had 10 points, six rebounds, two steals and a block in 13 minutes of play. Alex Lapeyrolerie and Laneah Bryan had eight points apiece for the Lobos while Anderson finished with six points to go along with a team-high 10 rebounds and two blocked shots.
Eleven of the Lobos' 13 players scored in the contest.
Vivian Gray was the lone Fort Lewis player in double figures, scoring 17 points.
The Lobos open the 2017-18 season at home 7 p.m. Friday when Western Michigan comes to Dreamstyle Arena – The Pit.