OCU's Kassidy Williams (Kiowa/Creek) Finishes 7th Overall at SAC Conference Cross Country Meet; Earns Third Career All-Conference Status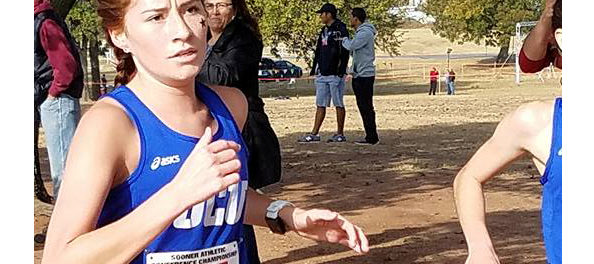 SHAWNEE, Okla. – Six runners from Oklahoma City University earned all-conference honors as the Stars took their third straight Sooner Athletic Conference women's cross country championship Saturday at the Gordon Cooper Technology Center.
Aminat Olowora, a senior from Lagos, Nigeria, won the individual crown with a time of 16 minutes and 58.06 seconds in the 5,000-meter race – 42 seconds ahead of the second-place finisher. Olowora has won nine individual titles in nine career races at OCU, and holds the record for best time at the SAC Championships.
Oklahoma City, ranked fourth in NAIA women's cross country, took first place as a team with 23 total points. The Stars finished ahead of No. 1-ranked Wayland Baptist (Texas) by 10 points and punched their ticket to the NAIA Championships on Nov. 18 in Vancouver, Wash.
"It's excited for the women's team to get their third consecutive conference title and for Aminat to get her second win," OCU head coach Matt Aguerosaid. "From top to bottom the women ran really well."
In addition to OCU's team victory and Olowora's individual title, Aguero was awarded SAC coach of the year.
Lydia Mato, Michaela Werner, Kassidy Williams (Kiowa/Cherokee), Tyler Berge and Brooke Cassar all joined Olowora in the top 10 of Saturday's race. Mato, a senior from Duadaso, Ghana, took second with a final time of 17:40.85.
Werner, Williams and Berge all earned back-to-back all-conference honors on Saturday. Werner, a senior from Grove, Okla., became a four-time all-SAC performer with a fourth-place time of 18:00.50, while Williams took her third all-SAC nod, finishing seventh with an 18:55.45. Berge, a three-time all-conference honoree, ran a 19:00.89 for ninth.
Cassar, a senior from New South Wales, Australia, took tenth with a 19:03.21, her second-best finish of the season.
Sheridan Hoyer and Alexis Metoyer both finished in the top-25 for the Stars. Hoyer, a junior from Poteau, Okla., ran a 20:06.96 for 17th place. Metoyer, a junior from Richmond, Texas, took 25th with a 20:56.66.
The race began under cloudy skies and temperatures in the mid-60s but ended with sunny skies and temperatures in the low 70s.