Tamia Dockery (Navajo) Dished 33 assists and and 10 digs in Win over Crosstown Rival George Washington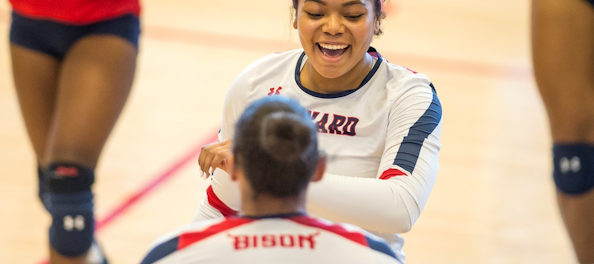 WASHINGTON (October 3, 2017) – Howard Women's Volleyball team defeated its crosstown foe George Washington in straight sets (25-21, 26-24, 25-17).
Senior Khaila Donaldson and junior Tamia Dockery (Navajo) led the Bison attack, each posting a double-double. Donaldson, reigning MEAC Player of the Week, manufactured 12 kills and 10 digs while Dockery generated 33 assists and 10 digs in the victory.
HU took set one after posting a .312 hitting percentage, 25-21.
In set two, the Bison held off GW's late charge and took a commanding 2-0 lead in the match.
Howard's momentum continued in set three, posting a match-high .387 hitting percentage en route to a sweep.
Jessica Young registered a team-high 12 kills while producing a .407 hitting percentage. Defensively, Fola Wilson provided 13 digs in the victory.
For George Washington, Skylar Lott and Kelsey Clark each had 10 kills in a losing effort.
Wednesday, Howard hits the road to Baltimore to resume conference play at MSU. First serve at 7 p.m.