Avery and Chace Hale (MHA Nation) Finish in Top 25 at Kansas University's Rim Rock Classic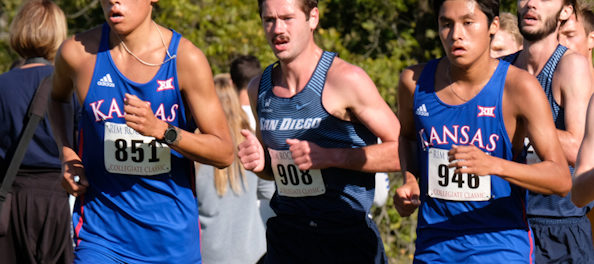 LAWRENCE, Kan. – The Kansas men's and women's cross country teams each took second place Saturday morning at the Rim Rock Collegiate Classic at Rim Rock Farm in Lawrence, Kansas. Redshirt junior Alaina Schroeder was KU's top finisher in the women's race, coming in third overall, and junior Michael Melgares took second in the men's race to lead the Jayhawks. UMKC secured first place in both the women's 6K and men's 8K races.
Melgares made a great display of his finishing kick to squeeze past UMKC's Quinlan Moll in the closing meters of the race to earn the second-place finish. Neck-and-neck in the final straightaway, Melgares was able to cross the line two-tenths of a second earlier than Moll, posting a time of 24:52.4.
Sophomore Avery Hale (MHA Nation) was the second Jayhawk to cross the line in the men's race, finishing in fifth among collegiate competitors at 25:06.4. Rounding out the scoring for KU's men were senior Carson Vickroy, freshman Chace Hale (MHA Nation), and redshirt freshman George Letner, placing 12th, 16th and 17th, respectively. The Jayhawk men finished with 49 points, while the UMKC men took the top spot with 31.