Spring Football: Mason Fine (Cherokee Nation) receives high remarks from head offensive coordinator Graham Harrell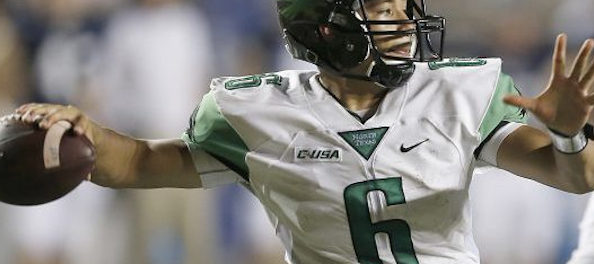 DENTON – At the start of spring practices, MeanGreenSports.com took an early look at the quarterback position. One day from the Green-White Scrimmage, we will take a look at the progression throughout the 15 practices with insight from offensive coordinator Graham Harrell.
Mason Fine – SO – 5'11" – 173
Fine (Cherokee Nation) started nine games in 2016 and earned All-Freshman recognition from Conference USA. He has also had a good spring, and has clearly developed from his first season. Like Shanbour, Fine provides flexibility in the running game, as his athleticism allows him to not only get out of trouble at times, but allows for quarterback run calls. Fans likely remember his 80-yard touchdown scamper to open the second half at UTSA last October.
Harrell's Take
"Mason is just getting better and better. He has a year's worth of reps under his belt and he is doing a lot of good things. He just has to continue to get quicker with the process. He has a great arm, moves well, does a lot of good things, but he's still young and part of being young is you just have to speed up the process of making the decisions. He usually makes good decisions and good reads, but sometimes he holds the ball too long. He's gotten better, but that is something he continues to work on, which is getting the ball out of your hand. Seeing the field and understanding where we want to attack them and then attack them quickly. I think that's where he's got to work the most.
"As far as talent goes, his talent levels are very high. He's a good athlete with an unbelievable arm, has lots of pop and is an accurate passer. Throwing ability is not the issue, we just have to continue to speed up the mental side of it for Mason and he's gotten quicker, but we can still work on that."