Elliott Barzilli (Nooksack Tribe) Hits Third Home Run of the Season as TCU Tops Murray State, 9-2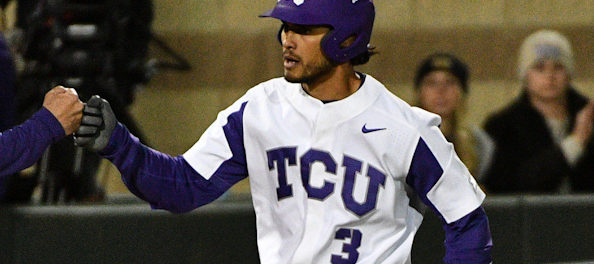 FORT WORTH – Home runs from Elliott Barzilli (Nooksack Tribe) and Luken Baker helped TCU stretch its winning streak to 10 games as the Horned Frogs topped Murray State, 9-2, in the series opener. Barzilli went 2-for-4 with three RBIs.
The Rundown
Murray State picked up an unearned run in the top of the second to take an early lead. It didn't last long as Barzilli cranked a two-out, two-run home run to put the Frogs in front to stay.
A two-out base hit from Evan Skoug extended TCU's lead to two, 3-1, as he drove in Connor Wanhanen. Baker followed with a home run off the scoreboard in left for a 5-1 advantage.
The Racers picked up another unearned run in the fourth and looked to be threatening for more with the bases loaded and one out. Jared Janczak got a double-play ball to end the frame, starting a string of 10 straight retired before he gave way to the bullpen.
TCU tacked on a pair of runs each in the sixth and seventh inning to account for the final score. Cam Warner drove in two with a base hit in the sixth, while Skoug and Ryan Merrill picked up RBIs in the seventh.
Janczak (6-0) allowed two unearned runs on five hits. He walked two and fanned seven in seven innings of work. Charles King pitched the final two frames, retiring all six batters he faced.
Notes:
• TCU has tallied multiple runs in an inning 46 times this season.
• TCU recorded double-digit hits for the 11th time this season.
• TCU homered in a game for the 16th time this season.
• Elliott Barzilli pushed his hitting streak to seven games.
• Barzilli collected his sixth multi-hit game of the season and the 48th of his career.
• Barzilli picked up his second multi-RBI of the season and the 25th of his career.
• Barzilli hit his third home run of the season and the 14th of his career.
Next Up:
TCU improves to 24-5 overall with the win. Game 2 of the three game series is set for Saturday afternoon at 2 p.m.