Oklahoma junior Davion Jeffries (Mvskoke Creek) placed fourth in 149Lb Division at the Lindenwood Open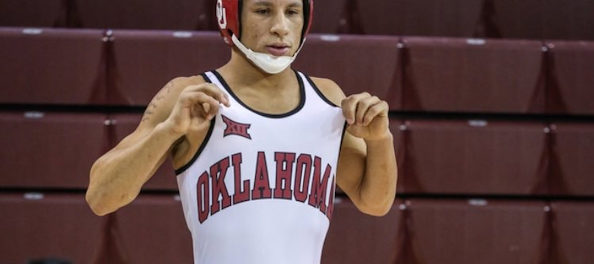 ST. CHARLES, Mo. — Led by senior Dawaylon Barnes' first-place showing, a total of seven University of Oklahoma wrestlers claimed top-five finishes at the Lindenwood Open on Saturday. The single-day open tournament took place at Hyland Arena on Lindenwood University's campus.
Barnes went 4-0 at the event to claim first in the 165-pound bracket. Redshirt sophomore Christian Moody (125 pounds) and seniors Mike Longo (141 pounds) and Yoanse Mejias (174 pounds) all earned runner-up finishes. Redshirt freshman Justin Thomas (157 pounds) took third place, junior Davion Jeffries (149 pounds) placed fourth and senior Andrew Dixon (197 pounds) claimed fifth.
"I thought some of the guys wrestled better than I saw a week ago," OU head coach Lou Rossell said. "That's really what I'm looking for – to see each guy improve – and I think we did that. I think Moody wrestled better. I think Mike wrestled better. Dawaylon Barnes did a nice job. Yoanse, same thing. At the end of the day, we wrestled some good opponents and had another competition where we got to see where we're at, and each guy did a little bit better. That's all I really look for, to see the growth and improvement from the guys."
Jeffries (Mvskoke Creek)stormed out to a technical fall in his first bout, downing Demarius Smith (unattached) 16-1 to record his first technical fall of the season. He then pinned Cameron Kelly (SIU-Edwardsville, unattached) in 3:15, but Jeffries dropped an 11-5 decision to Iowa State's Jarrett Degen in the quarterfinal. After his first consolation opponent medical forfeited, Jeffries claimed a 3-1 decision over No. 18 Grant Leeth (Missouri) to advance to the third-place match. He narrowly fell in a 3-1 decision in the first sudden victory period with Alex Butler of Missouri.
The Sooners are back in action on Dec. 1-2 at the Cliff Keen Invitational in Las Vegas.