Rich Winter: Jailen Bear Robe is Middle-School's Best Big Man and Panic Button's Athlete of the Week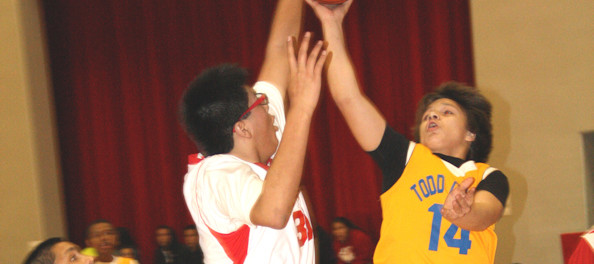 By Rich Winter
So I ventured out of my comfort zone a tad last night and went to the middle school games between TCMS at SFIS.
Since I got in free, I got way more than my money's worth.
The TCMS 6th grade team handled the SFIS 6th graders pretty good, although Traven Sazue from SFIS did his level best to keep St. Francis in it.
So then I caught the entire 7th grade game. Before the game started I went over and visited with a few of the St. Francis guys because I know Daniel Witt and Prince ? a little bit from the 7th grade team. I snapped a photo of the SFIS 7th graders as they were hanging out near the locker room. After my first photo I said, "Now just the ugly guys." And they all laughed which is how I snapped the photo you will find on Page 12 of this week's Todd County Tribune.
So I got to watching that 7th grade game and I'll be darned if I didn't come away impressed with St. Francis big-man Jailen Bear Robe. Now, I had seen Bear Robe play a bit in 6th grade and I remember Ken Wike and Dana Cook just raving about this kid during the AAU season. (Dana more than Ken)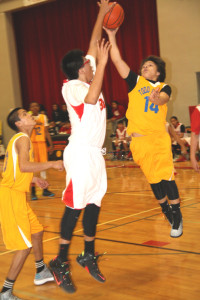 So I watched this 6-foot plus 7th grader and came away very impressed with his footwork, his understanding and his attitude.
Jailen Bear Robe was a man among boys in that 7th grade team and the Warrior boys rode his and Mason Cordier's, and others to a pretty dominant victory.
So many little things in basketball that I think, we, me take for granted. I don't know how many times I saw Bear Robe snatch that rebound and fling it forwards to his buddy, Cordier, who had leaked out on the break. The outlet pass is a lost art, yet Bear Robe seems to have it mastered perfectly.
As you can see from the photo, Bear Robe pays attention to defense and I'm guessing he probably had 10-15 blocked shots in the 7th and 8th grade games combined.
Bear Robe is a lefty, so he's craft down low and often gets the opposition on his hip where he will score. Give him one foot in the paint and good things will happen. Give him two feet in the paint and it's over.
This kid is a crafty scorer and with that left hand, and that height, I'm guessing some good things are coming.
So, Jailen Bear Robe, you are Panic Button's featured athlete of the week.