Tesha Buck (Mdewakanton Sioux) Scores 17 Points in Green Bay's Big Win at Milwaukee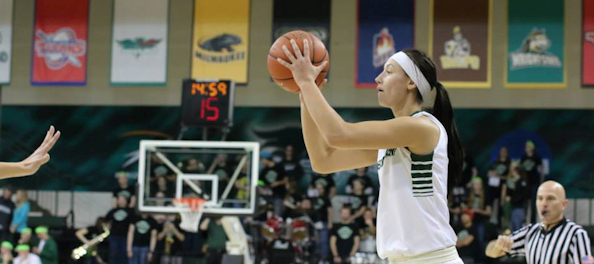 MILWAUKEE, Wis. (GreenBayPhoenix.com) – Mehryn Kraker scored a season-high 24 points and the Green Bay women's basketball team shot a season-high 59.6 percent, celebrating Valentine's Day on Saturday with a convincing 79-62 victory over Milwaukee at the Klotsche Center.
Green Bay (20-4, 10-1 HL) recorded its 20th win of the season with the victory, marking the 16th-consecutive season the program has won at least 20 games. The Phoenix tied a season-high in assists with 25 against the Panthers (8-15, 4-7 HL), which also came in Milwaukee against Marquette to open the season.
Kraker tallied her season-high in points thanks to a 4-for-8 shooting performance from 3-point land and a 10-for-14 effort from the field. Tesha Buck (Mdewakanton Sioux) and Kaili Lukan also finished in double figures, finishing with 17 and 11 points respectively. Buck continued her recent stretch of crashing the glass, finishing with a team-high eight rebounds.
Senior Megan Lukan stuffed the stat sheet once again, finishing two points shy of her fifth career double-double after totaling eight points, 10 assists and six rebounds on her birthday. Lukan set a new season-high in assists, distributing the ball on the break and into the post.
The Phoenix dominated the game in the paint, outscoring Milwaukee 52-14 in the paint. Green Bay also added 20 second-chance points, led by Mariah Monke's four offensive rebounds. Monke finished with six points and a pair of blocks to go along with her five total rebounds.
Allie LeClaire went a perfect 3-for-3 from the field and finished with seven points in the game. Green Bay shot 59.6 percent as a team, its highest field goal percentage this season.
Milwaukee was led by Jenny Lindner, who finished with 18 points.
Green Bay is back home next Thursday (Feb. 19) when it plays host to Valparaiso. A victory would give head coach Kevin Borseth 600 career victories.