Five Men and Women Seniors Honored at Haskell Indian Nations University Senior Night Celebration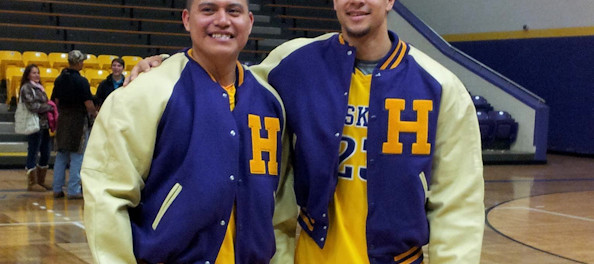 Haskell senior athletes are excellent players and even better individuals.
by Charlie Perry
Lawrence KS- 5 Senior basketball players were honored recently at Coffin Complex as part of Haskell's Senior Night Celebration featuring a double header against York College. 3 young ladies including; Jenine Coriz, Tahnee Stands, and Tiffany Sullivan were honored alongside 2 gentlemen; Randy July and Stand Lovato. Coaches Shane Flanagan and Chad Kills-crow took a moment to offer encouraging words to their teams before an honor song was played for the seniors. The ladies were than given flowers and baskets filled with useful items and food well the men were wrapped in traditional blankets.
Haskell starting point guard Jenine Coriz could feel the emotion of the event, "During the presentation, everything suddenly became real. It was a very bitter sweet moment for me, I enjoy playing for the Haskell Community, and it is definitely something I am going to miss. That presentation made me realize all the support and love, we seniors have. Mixed emotions were running through me, I was over joyed, prideful and absolutely loved."
Guard Tiffany Sullivan expressed her love for her teammates, "Senior night was one of the most memorable days, I will never forget it. Being around all the most important people in my life; my family, my coaches, my life, and the Haskell community was amazing. To get hugs from my team and see them tear up made me miss them already. To leave a team is like leaving your family. It was good to hear words from my coach. As a senior you start to appreciate your coach's words more and listen."
Senior small forward Randy July offered his account of the event, "Man it felt really good. All that I have been through; breaking my leg, losing family members; to know that I made it, really makes me happy."
Haskell's all-time leading scorer Stand Lovato could also feel the positive energy in the air, "The emotion from senior night was really special. It was a bitter sweet feeling. It's still hard to believe it was my last home game here at Haskell but I've enjoyed every second of it. I enjoyed the presentation I just want to thank God for blessing me with the opportunity to be able to here at Haskell and to be able to represent our fellow Native Americans throughout the country has been an honor."
Haskell Indian Nations University itself has also left a major impact in the life of this senior group. Coriz explained, "Haskell has made a very positive impact in my life. Being a student athlete is a lot of hard work but it is very rewarding. The Haskell community has given me a sense of belonging. Haskell has impacted my life in various ways, mainly getting me ready for the fast paced world in which I am about to join after graduation.
Sullivan expressed the acceptance she has felt from the Haskell family, "I know I will always have the support of my team and the Haskell community. The connection we all share has been a great part of our success. I'm very thankful to be a part of a team like this. Whatever the future holds for all of us we will always share together this season."
For July Haskell was all about relationships, "I have made so many friends here that I would consider family. I just love all the support I get from Haskell."
Lovato has grown very much since coming to Haskell; he's truly come out of his shell. "Haskell has impacted my life in many different ways. When I first stepped foot on campus I was a really shy person and didn't know anyone besides my sister. Throughout the years I've been able to become more outgoing and thanks to Haskell I have many different friends across the country and have gone places that I never imagined I would go."
Dreaming big and reaching for the stars is a major priority for this group of young leaders as well. All are ready to begin the next chapter in their lives. Coriz detailed her next step, "Once I graduate, I plan on furthering my education. I don't know exactly where yet."
Sullivan plans to enter the corporate business world after graduation, "I'll be headed to Bentonville Arkansas to start my life in the corporate environment. I'm taking a position in the front offices of Walmart to gain business experience. Graduation is in May and its coming fast. That will be the next big step. Thank you Haskell, ONWARD.
July will continue to overcome obstacles to achieve his dreams, "My goal has always been to take basketball as far I can. Hopefully I can make it overseas and continue to do what I love."
Ultimately Lovato would like to give back to the future leaders of Native America, "The next stop in my journey is to keep working on my education and graduate with my Bachelor in Environmental Science and move back home to New Mexico and help out my tribe. I also would like to become a coach so I can help mentor young Native American kids so they too can be able to achieve the dreams they have in life.