No. 13 Davion Jeffries (Mvskoke Creek) registered a 5-3 decision for Sooners who upend Oregon State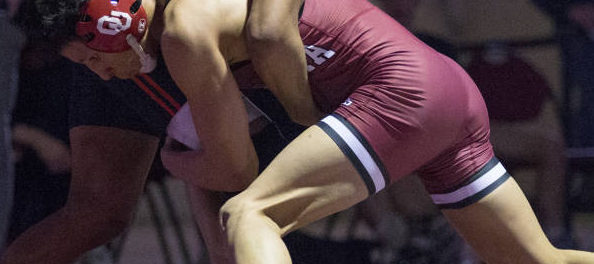 By Michah Thompson, soonersports.com
NORMAN – The No. 19 Oklahoma wrestling team dominated Oregon State, 29-7, in its last dual of the season on Friday night inside McCasland Field House.
The Sooners (11-6) used three bonus-point wins, including two technical falls from seniors Clark Glass and Matt Reed, to cruise past the Beavers on Senior Night.
"I thought we did a really nice job" OU head coach Lou Rosselli said. "It was the first time I saw, on all ten of the matches, that our effort was really good. Their attack rate was really good. I thought that, for the most part, everybody competed to the best of their ability, and I think that's a big part of it. We're coming down the stretch, and I think it's important to compete hard and go out there and expect to win and take control of the match."
Christian Moody was a catalyst for the Sooners, securing a 9-5 decision over Oregon State's Kegan Calkins in the 125-pound bout. Moody connected for two takedowns early to hold a 4-2 lead after the opening period. The redshirt freshman tacked on an escape and two takedowns over the next two periods for the win.
At 149 pounds, No. 13 Davion Jeffries (Muscogee Creek Nation) registered a 5-3 decision over Joey Delgado. The bout was scoreless after the first period, but Jeffries escaped and recorded a takedown late in the second for a 3-0 lead. The sophomore added another takedown in the third to hold on for the win.
"I think the way the guys competed, the way they operated today, was a sign of their potential and that we can have some great things happen for us down the road here in the postseason," Rosselli said. "Again, it's really how you operate. It's not always the winning and losing. It's how you operate, how you make weight, how you handled your match, how you competed, every second out there. We were teaching that all year, so I'm glad to see that a lot of them are competing the way I think we should compete."
The dual marked the final of the season for the Sooners. OU will return to the mat for the beginning of postseason on March 4-5 in Tulsa for the Big 12 Championship in the BOK Center.