Natahnee Spencer (Nez Perce Tribe) Scores 12 Points s the LCSC women's basketball team defeats No. 20 Montana Western 77-56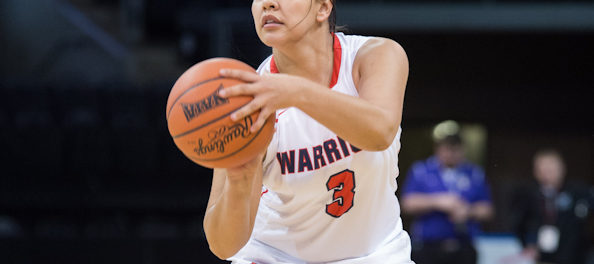 DILLON, Mont. – Jossilyn Blackman scored a season-high 17 points off the bench with eight rebounds and Megan Risinger added 15 points with eight boards as the LCSC women's basketball team defeated No. 20 Montana Western 77-56 Thursday night.
The win is the 27th of the season for the Warriors and fourth in a row. LCSC's record improves to 27-1 overall and 15-1 in Frontier Conference play. The Bulldogs fall to 20-6 on the season and 9-6 in conference.
The first quarter was closely contested as the largest lead for the Warriors was only five when Natahnee Spencer (Nez Perce Tribe) hit a trey with 2:26 left in the quarter. Spencer hit another triple at the end of the quarter as LCSC led 18-15 after one. The Warriors grew their lead to nine in the second but the Bulldogs kept coming back, not letting the game get out of control. Montana Western cut the deficit to four points twice. The Warriors shot 10-of-18 from the field in the second to take a 41-32 lead at the halftime break.
The break seemed a little too long for both teams as neither team came out torching the nets from the start of the quarter. Each team made one basket in the first three minutes but the Warriors finally found a double-digit lead with Risinger making a field goal in the paint to lead 50-39. Blackman scored with five seconds left in the quarter, giving LCSC their biggest lead of the game of 18 points.
A low-scoring fourth quarter stalled both offenses. LCSC outscored the Bulldogs 12-9. The Warriors lead never dipped below 15 in the finale.
Natahnee Spencer and Brittany Tackett both scored 12 apiece. Caelyn Orlandi kept her blistering pace of assists per game with seven while adding seven points.
The Warriors, who already claimed the No. 1 seed in the conference tournament, will play Rocky Mountain on Saturday starting at 4:30 p.m. local time.