Minnesota Vikings' Sam Bradford (Cherokee) Looking Sharp in Sunday's win over San Francisco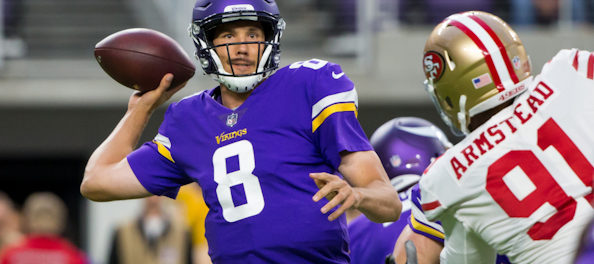 Sam Bradford (Cherokee Nation) completed 17 of 21 pass attempts for 134 yards with no touchdowns or interceptions in Sunday's 32-31 preseason win over the 49ers. He also fumbled once but it was recovered.
Bradford's 81.0 percent completion percentage was certainly impressive, although he averaged a modest 6.4 yards per attempt. The veteran signal caller also took three sacks and lost the ball on the first one, but he certainly got some quality work in with the likes of Laquon Treadwell, Adam Thielen, Stefon Diggs and Dalvin Cook, all who figure to play roles of varying degrees of importance in the coming campaign. Bradford is expected to sit out next Thursday's exhibition finale versus the Dolphins in order to gear up for a Week 1 showdown against the Saints.