Taylor Mims (Crow Tribe) added 9 kills, 4 blocks as Washington State Cougars Win Season-Opener 3-1 over American University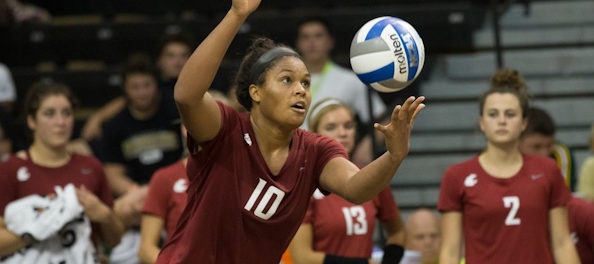 WASHINGTON D.C. — The Washington State volleyball team (1-0) defeated American University (1-3) in four sets Sunday evening at Bender Arena in Washington D.C., with set scores of 27-25, 25-22, 14-25, and 28-26.
WSU, winner of its 27th season-opening match in the last 31 years, was led by junior Ella Lajos and senior Casey Schoenlein with 10 kills each, and they combined for nine blocks. Lajos hit .529 in the match with only one error in 17 attacks and was instrumental in the fourth set comeback win that sealed the match victory. Redshirt sophomore Jocelyn Urias led the match with seven blocks and added five kills with no errors in seven attacks. Junior Taylor Mims (Crow Tribe) added nine kills, four blocks and two aces.
The Cougars hit .230 for the match and held the Eagles to a .147 hitting percentage and out-blocked the home team 13-5 to 10.5.
WHY & HOW…
WSU Head Coach Jen Greeny said, "American is a fantastic team: well-coached, disciplined and you could tell they'd played a couple of matches before ours. We give a lot of credit to them.
"We are working on things with people in new positions and trying to get the kinks out but I was pretty pleased overall with our middles especially. Ella Lajos and Jocelyn Urias did a really nice job and hit really well. Our passing was streaky to say the least so if we can settle down and get a little more comfortable back there I think we'll be okay.
"There was a lot of pressure at the end of the sets and I thought we handled it like a veteran team. We can't have too many sets like set three tonight where the wheels came off so we need to clean that up.
"We need to be a little more consistent, especially in serving, and have that consistency be at a higher level than not. I thought all three setters did a pretty good job; there were a couple of miscommunications but that happens in the early season matches. We need to work on our tempo and locations a little more as well.
"We're excited to get right back out there (against Howard tomorrow night) and try and get better."