Lyle Thompson (Onondaga) sits solely atop the NLL leaderboards with 90 points as Georgia Swarm Earn Playoff Berth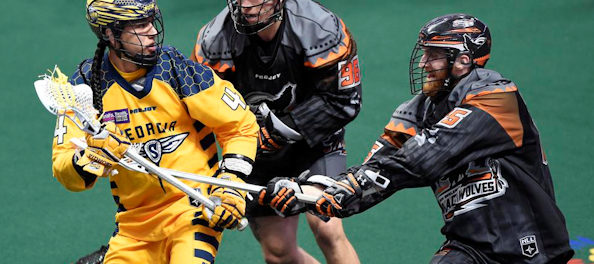 By Ty Merrow
 (Uncasville, CT) – The Georgia Swarm (10-4) made a 21-12 statement Friday night as the team ran over the New England Black Wolves (7-8) in front of 5,205 fans at Mohegan Sun Arena. With the victory, Georgia clinched a playoff berth and became the first team in the NLL to reach 10 wins in 2017.
The Swarm tied a franchise-high in goals with 21 for the second week in-a-row with an unselfish offense operating much the same as it did last week against the Colorado Mammoth. The last time a team scored at least 20 goals in consecutive games was in 2015 when the Buffalo Bandits did it twice against New England.
After missing the last time Georgia and New England clashed on March 12, Randy Staats, Miles Thompson, and Joel White helped Georgia take the season series against New England, 3-1. Georgia scored five or more goals every quarter tonight. Friday's victory marked the first time the Swarm has won at Mohegan Sun Arena since relocating to Georgia
After registering six points in tonight's contest, Lyle Thompson now sits solely atop the NLL leaderboards with 90 points (34G, 56A) and continues to make his case for NLL MVP.
"This is a tough place to play," head coach Ed Comeau said. "We haven't had a lot of success here. I thought we played with a really good step tonight. We got (New England's goalie) Evan Kirk early, and we kept to our game plan. Feels good, and a lot of hard work. Our D and Mike Poulin played really well also."
Ten different Georgia players scored goals Friday night to fuel the league's best offense. Staats opened the scoring in every quarter and led the Swarm with a career-high five goals and 11 points, tying his 2017 mark in assists with six. Johnny Powless, assistant captain Shayne Jackson, and former Black Wolves Jordan Hall followed with seven points each. Powless had 3G,4A; Jackson 1G, 6A; and Hall 2G, 5A.
Kiel Matisz finished with six points (3G, 3A), Lyle scored six points (2G, 4A), and Miles ended the night with five points (2G, 3A). Five other Georgia players recorded a point.
Poulin played 55:21 min. in front of the net, blocking 38 saves on 49 shots. He ended the night with an 11.92 GAA and a .776 SV%. Rookie Adam Shute saw playing time for the first time in his career, standing between the pipes for 4:39 min. and making three saves on four shots.
Breaking the ice for the third time in the past four games, Staats found the back of the net 40 seconds into the contest and followed up with another a little over a minute later. Miles scored a power play goal, but Brett Bucktooth responded with New England's only goal of the quarter. Lyle and Powless followed up with goals of their own before Staats book-ended the quarter with the last goal, putting Georgia up 6-1.
Georgia found itself man-down for a period in the second quarter, and New England was able to capitalize, but not before Staats scored a 2-man-down shorthand goal to open the second. The two teams would both score five goals each, and the score was 11-6 at halftime.
Staats started the third quarter off with his fourth goal of the night, and Ethan O'Connor followed up a little over a minute later with his fourth goal of the season. New England started to go on a roll, scoring three goals in two minutes to come back within four goals. Shawn Evans brought it within three before a successful challenge from Comeau reversed momentum back into the Swarm's favor. Hall and captain Jordan MacIntosh netted two more, New England's Chad Culp retaliated, but Chad Tutton ended the quarter with Georgia's 16th goal of the night.
Staats started scoring again, his career-high fifth goal and 11th point. New England's Kevin Buchanan and Kyle Buchanan were able to find the net for their team in the final quarter, but it could not stem the tide as Matisz, Miles, Hall, and Powless helped Georgia reach 21 goals for the second week straight.
"I think everything's just clicking right now for the offense," Staats said. "21 goals in back-to-back games is pretty good. It all happens in one thing. The defense gets momentum for us, and we get momentum for them. It's a whole team thing."
With its 10th win of the season, Georgia ties a franchise-high in wins and still has four games left to play in 2017 before playoffs.
"We got a win on the road in a tough place," Comeau said. "… I don't think it means anything else other than the points and the standings. But the good thing is we continued to play the way we've talked about playing all year. That's the focus for us, to repeat this type of effort and repeat this type of execution each and every week."
Georgia now returns back home to Harrah's Cherokee Casino Field at Infinite Energy Arena to take on the Buffalo Bandits on Saturday, April 15. Faceoff is set for 7:05 p.m. ET. The first 1,000 fans will receive a voucher for a FREE hot dog. A special Playoff Push package is being offered by the team with lower level seats starting as low as $25. Tickets are available by calling 844-4-GASWARM or by visiting GeorgiaSwarm.com/PlayoffPush.
Thompson Brothers Lacrosse (TBL) teamed up with Native Vision for its first ever TBL Challenge on Friday night. For every goal the Swarm scored against New England, Georgia pledged to donate $50 to Native Vision to help support Native American youth. With 21 goals scored, the Swarm helped raise $1,050.
The game also featured the Black Wolves signing New England Patriots' wide receiver, Super Bowl LI champion, and TBL-endorsed athlete Chris Hogan to an honorary one-game contract. Hogan played college lacrosse at Penn State and football at Monmouth College.