Kali Sargent (Washoe Tribe) tosses her fifth complete game of the season as the Nevada softball team defeated New Mexico 8-2 on Saturday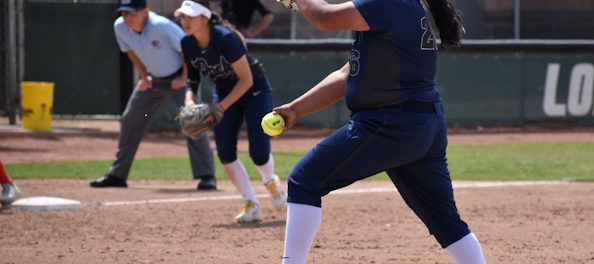 ALBUQUERQUE, N.M. – After another strong outing at the plate, the Nevada softball team defeated New Mexico by a score of 8-2 on Saturday afternoon. Heading into Sunday's series finale against the Lobos (18-15, 4-4 MW) the Wolf Pack sits at 20-15 on the season and above the .500 mark at 6-5 during Mountain West play.
With the Pack collecting a total of 13 hits on the day, Nevada has now reached the 10-hit mark in back-to-back games for the fourth time this season. The Pack's offense was felt throughout the entire lineup as Nevada saw five of its players record multiple hits in Saturday's matchup.
For the second day in a row, Nevada jumped out to an early lead, scoring two runs in the first inning. Junior Erika Hansen got the bats going with a single through the right side, which set the table for freshman Kenzi Goins, who took a 1-1 pitch to deep left field and over the fence for her second home run of the season, giving Nevada the quick 2-0 lead.
After the Pack tacked on another run in the second inning, Nevada kept the pressure on New Mexico in the third with two more runs, pushing its lead to 5-0. Junior Aaliyah Gibson led the inning off by being hit by the pitch, which allowed senior Nikki Orozco to double home Gibson from first.
Sophomore Alyssa Mendez would move Orozco to third, giving senior Melissa Arriaga the opportunity to successfully lay down a suicide squeeze and give Nevada its second run of the inning. The Lobos fought back in the bottom half of the third to trim the Pack's lead to just four runs, but Nevada responded in the fifth with three runs of its own, extending the lead to 8-1.
Mendez kicked the inning off with a base knock to right field, which was followed by a walk from freshman Haley Burda. After senior Raquel Martinez drove home Mendez with a single up the middle, Hansen followed a walk from freshman Sienna Swain with a single of her own, scoring both Burda and Martinez on the play.
The seven-run lead for the Pack proved to be all that sophomore Kali Sargent (Washoe Tribe of Nevada) needed to seal the 8-2 win for Nevada. Sargent finished the afternoon tossing her fifth complete game of the season, giving up just five hits in the process.