Kali Sargent (Washoe Tribe) and Wolf Pack Ends Season in NISC regional championship game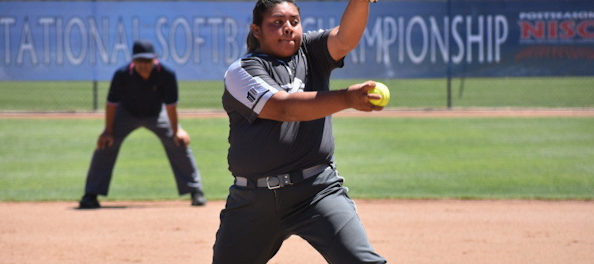 STOCKTON, Calif. – After finding itself in its first postseason tournament since the 2009 season, the Nevada softball team completed its season with a 3-0 loss to Cal Poly in the Postseason NISC regional championship game on Thursday afternoon. The Wolf Pack finished its 2017 campaign with a 30-25 record and 13-11 mark in Mountain West play, which is the most conference wins Nevada has had since joining the league.
In just his first season at the helm of the Nevada softball program, head Josh Taylor finished the year eclipsing the 30-win mark, guiding the Wolf Pack to a postseason berth for the first time in eight years. Under Taylor's direction, Nevada saw four of its players named to the MW All-Conference team. Taylor also helped guide the Pack 30 wins in back-to-back years for the first time since the 2008 and 2009 seasons.
On the day, the Pack's pitching staff kept Nevada within striking distance throughout the entire game. Sophomore Kali Sargent (Washoe Tribe) and senior McKenna Isenberg both had strong outings as they combined to allow just two earned runs, giving up only one walk in the process.
Senior Raquel Martinez, collected Nevada's lone hit of the game, which game in the bottom of the fourth inning, with the Pack trailing by a run. Following her base hit, freshman Kenzi Goins drew a walk to put two runners on for Nevada with just one out.
However, the Pack was unable to take advantage of its opportunity in the inning, stranding both runners. The Mustangs (36-19) came back in the top of the fifth to score a pair of runs, which proved to be the difference as Cal Poly won the game, 3-0.
With five seniors on its current roster, Nevada will reload in 2018 and welcome seven newcomers to the program. The Pack will also return three of its four MW All-Conference members from this season, including juniors Aaliyah Gibson and Erika Hansen, as well as Goins.