Rain Ortega (Oglala-Lakota) is one of the top up and coming athletes on the Pine Ridge Reservation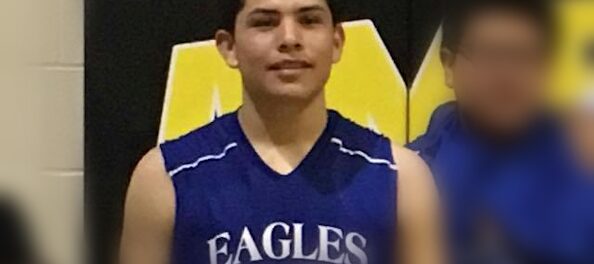 (Pine Ridge, SD)  – Rain Ortega, "Wakangli," is one of many recent middle school graduates on the Pine Ridge Reservation. Rain attended Isna Wica Owayawa (Loneman School), located just outside of Oglala, S.D., and hails from the small community of Grass Creek, located north of Oglala.
He is an up-and-coming student that hopes to make an impact at the high school level, both on and off the court.
One of the top athletes in the Pine Ridge Reservation's Big Foot Conference, Rain finished as one of the top cross country runners, and is an exceptional player in football and basketball as well. He averaged double figures for his basketball team that finished 14-3 on the season and finished as the conference tournament runner-up. He also helped his football team to an undefeated conference season and playoff runner-up.
While attending Loneman from grades K through 8, Rain participated in the dance club as a grass dancer for several years. He participated in football, cross country, softball, archery, and basketball throughout his junior high years. He was awarded the Eagle of the Year award, which is given to the top student-athlete of the graduating class. Rain was also the lead singer in the school's drum group and sang the Lakota Flag Song at school wide assemblies and during morning prayer.
"He's 5 foot 10 inches and is a defensive minded guard so he has the tools to become an impact player. He's one of the hardest workers I've coached and he takes it personally if he doesn't get a defensive stop," said Dale Pine Jr., Rain's middle school basketball coach.
"He's also quick and as he hones his skills, he'll only get better. He also gets after it in the classroom too and that's the most important thing." His hobbies are music and sports. He hopes to attend Red Cloud Indian School in the fall and plans to participate in many of the various activities that the school has to offer.
"Rain's impact on sports at Loneman is irreplaceable, he is competitive, and has a lot of class when he wins and when he loses. He keeps a level head," said Katie Bauder, the Athletic Director at Loneman School for the past three years. "His leadership will be greatly missed at Loneman, but will be an asset to any high school team."